Hony Capital, the private equity firm that just took over British restaurant chain Pizza Express, has often been lauded as one of China's homegrown private equity success stories. With $7.4 billion in assets under management and an investment team that includes some of China's most well-connected businessmen, Hony appears to be perfectly positioned to gain from the growing aspirations of the country's private and state-owned companies. "I'm going to be riding on the wave of Chinese firms going global," chief executive John Zhao told The Economist two years ago.
So why is the company spending $1.5 billion on a pizza chain that has just a tiny percentage of its 500  stores outside the UK (and even fewer in China), not to mention so much debt from its last private equity owner that it reported a loss even as sales grew last year?
Blame China's bureaucracy.
Despite optimistic projections from Hony and global private equity giants, professional investors have found themselves hobbled in China by Beijing's strict regulations, including the permitted size of buyout deals and the type of companies they can target at home. There's little oversight of overseas investments, though. Tellingly, other bidders reportedly interested in Pizza Express included Citic's private equity arm and Fosun, both from China.
After raising tens of billions to invest in recent years, the number of private equity deals actually getting done in China is declining, according to Bain & Co's latest global private equity report (pdf, pg. 7):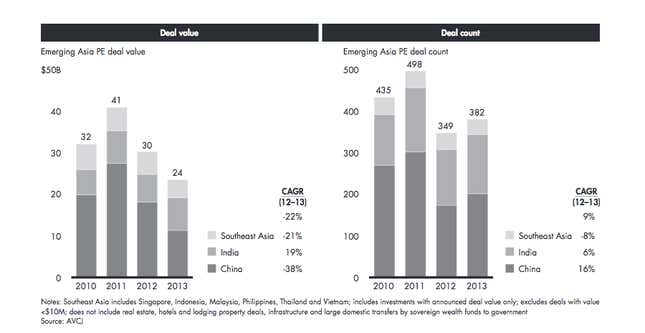 Bain estimates that China-focused private equity firms had some $36 billion in "dry powder," or money raised that hasn't yet been spent, at the beginning of 2013, and private equity deals in China (which could include investments from global funds) were less than one-third of that last year. While having money to spend is great, not being able to spend it is not—ultimately "dry powder" expires, and private equity fund need to return it to investors.
Making matters worse, government restrictions on IPOs in China have all but shuttered one of the most popular exit strategies there, as the Finance Asia explains. The fact that the IPO market was closed by regulators for nearly two years "has burned many [general partners]. They have either swallowed losses or are begging their investors for extensions."
That's not to say Hony isn't finding opportunity in China. The company recently invested in the massive, $3 billion privatization of video game company Giant Interactive. But instead of bringing a Chinese company global, the deal essentially brings it home. Giant is one of a handful of Chinese tech companies that listed in the US in recent years and are in the process of de-listing after their share price faltered.
Cathy Sizhao Yi contributed reporting to this article.