The numbers: Noisy. Bank of America's revenue fell by 4% in the second quarter versus the same period last year, while profit sank by 43%, to $2.3 billion, thanks to hefty legal charges. Both numbers were short of analyst estimates, according to FactSet. BofA similarly disappointed last quarter, so the markets weren't too surprised.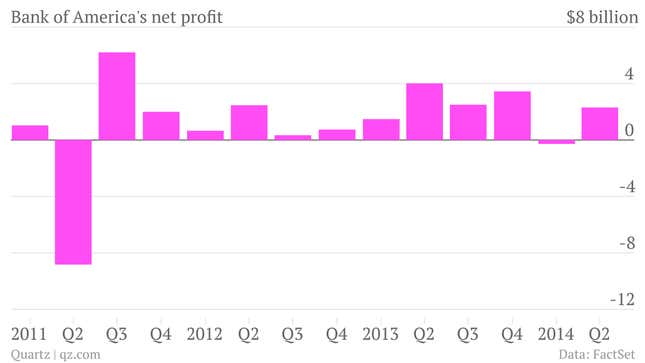 The takeaway: BofA is haunted by unrelenting legal problems. In the second quarter the bank reported $4 billion in legal expenses, including a $650 million settlement with insurer American International Group over shoddy mortgage securities. Compared with a $6 billion legal charge last quarter, this represented something of a victory. But another multi-billion dollar settlement with the US Department of Justice over past mortgage misdeeds looms. Rival Citigroup recently reached a $7 billion settlement with the agency, so it's possible that a BofA deal could be in the offing soon.
What's interesting: Bucking the trend of slumping trading elsewhere, BofA reported a 5% increase in revenue at its fixed income, currency, and commodities unit for the quarter. The solid performance excludes a funky accounting adjustment related to the cost of BofA's debt (known as debt valuation adjustment), but it's still a welcome positive for the fixed-income group given the otherwise rocky environment for that business line. BofA's other investment banking businesses, as well as its wealth management unit, also mostly put in a strong showing in the second quarter, but it's hard to focus on this amid all of the legal clutter.