For those seeking an emotional lift from their TV shows, a storyline in which 2% of the world's population has mysteriously disappeared, and those who remain drift through an unending stream of grief, emptiness and questionable sanity might be a turnoff.
Hence, HBO went turbo-creative in marketing its latest series, The Leftovers.
The show debuted last month to mostly good reviews. As executive producer Damon Lindelof's first TV show since LOST, it follows small-town police chief Kevin Garvey and his family (among an ensemble of other enigmatic, LOST-like characters) trying to navigate a world in which roughly 140 million people suddenly and without explanation go poof. In the aftermath, a cult called the Guilty Remnant forms; its members are mute, chain-smoking stalkers who only wear white (pro tip for the group: read the Quartz guide on the only white jeans you need).
The Guilty Remnant features prominently in the network's barrage of interactive marketing campaigns for The Leftovers. Here's how the king of premium cable has attempted to rouse interest in its most solemn series since Six Feet Under:
1. Send out personalized press kits, each complete with a working cell phone.
Each dossier was tailored to the person who received it. They all contained a burner phone and charger (the reason why became obvious after the second episode) as well as a lighter and a sign with the Guilty Remnant's slogan, "We are living reminders." Recipients then took to Twitter to show off their swag.
Eventually, they started receiving texts on those phones.
2. Get a bunch of people to dress up like the Guilty Remnant to scare tourists in Times Square.
Actors dressed as cult members staged one of New York City's biggest faux pas when they blocked walking paths in Times Square on June 23, a few days before the series premiere. According to the Times Square Alliance, 350,000 pedestrians walk through Times Square every day and another 115,000 people drive through it.
3. Create a YouTube promo for a fake product called "Loved Ones."
The mock commercial advertises "bereavement figures" with such composure and familiarity that it feels like it could be an ad for Cialis.
4. Partner with Argentinian artist Pablo Bernasconi and take to Facebook and Twitter to promote a fake children's book (which, like the faux promo, feels very, very real).
The infantility and eeriness of the illustrations in "The ABCs of the Sudden Departure" tend to stick in the mind.
But for all that, The Leftovers garnered a tepid 1.77 million viewers for its premiere. Here's how that stacks up against the series premieres of HBO's other current dramas: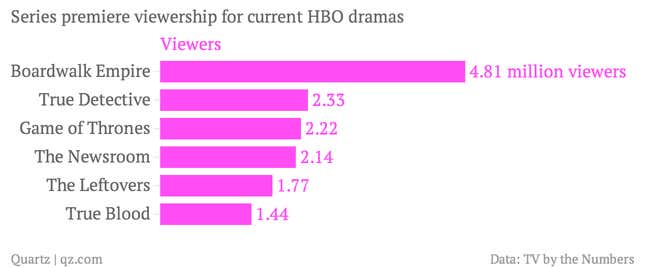 Had The Leftovers aired on its originally scheduled date of June 15, it undoubtedly would have attracted more viewers; the season four finale of Game of Thrones and its 7.09 million viewers would have preceded it. But because of a short hiatus in filming, the premiere was pushed back two weeks to June 29, and thus followed True Blood's middling 3.06 million viewers.
The viral marketing strategy for The Leftovers was not HBO's first foray into nontraditional, interactive ad campaigns. But the campaign for The Leftovers may have been its most comprehensive, presumably because misery isn't something the average TV-watcher jumps to buy. Whether the show will be a hit remains to be seen; either way, the effort is fitting for one of the bleakest shows ever made.