With Microsoft eliminating 14% of its workforce, or some 18,000 jobs, you have to expect that its global footprint will change. And according to executive vice president Stephen Elop's memo to employees, it will.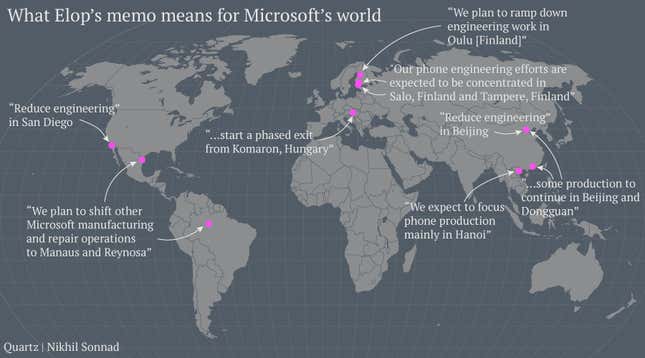 Here are the three big changes that appear to be underway:
The other shoe drops in Finland
Ever since Microsoft purchased Nokia, people have expected some kind of workforce reduction, and Finns in particular have feared that the company will reduce its footprint there. The good news: Phone engineering efforts will stay there, with two different facilities, Salo and Tampere, splitting the design work on high- and low-cost handsets, while operations in Espoo and Lund develop software. The bad news: There are going to be about 1,000 fewer jobs in Finland, mostly coming from the shuttering of a 500-worker research and development facility in Oulu.
Goodbye, China
The pressure of rising wages may be getting to Microsoft's manufacturing bottom line: According to Elop's memo, the company is drawing down work in Beijing and Dongguan, China, to focus production in Hanoi, Vietnam—a shift that many global companies are making (with Nike and Intel leading the charge) as wages have risen in China in recent years.
Into the Amazon, across the border
The company will "shift other manufacturing and repair operations to Manaus [Brazil] and Reynosa [Mexico]," while drawing down a facility in Komaron, Hungary. Manaus, deep in the Amazon jungle, is home to an economic free trade zone designed to attract foreign investment, and it appears to have worked: The Nokia facility acquired by Microsoft in the merger will be expanded. Reynosa, meanwhile, is right on the US border, where NAFTA has created opportunities for a deeply integrated manufacturing sector between the two countries.