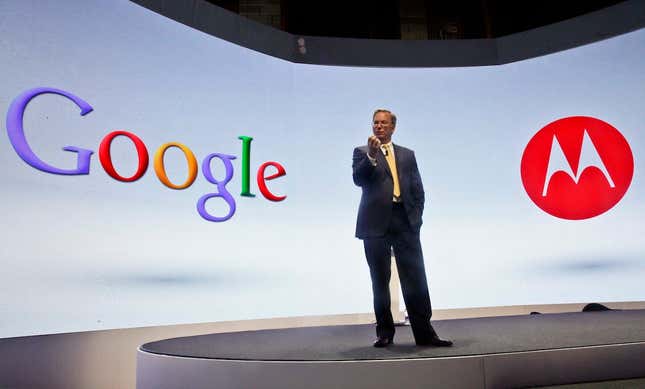 The US Federal Trade Commission wants to sue Google over the way it re-orders its search results to favor its own services, Reuters revealed on  Oct. 12, but it might not be able to nail the company for changes to its search algorithm. Now the FTC may have found another way to gain leverage with Google—launch a second suit over the patent licensing practices of Motorola Mobility, which Google acquired in May 2012.
The second suit, which FTC staffers are said to be recommending to the commissioners, addresses Motorola's demand that it should get 2.25% of the retail price of every unit sold that incorporates technology based on patents it owns. That's $11 every time Apple sells a new $500 iPad.
Motorola's 2.25% fee would be for patents on "industry-standard" technologies: protocols, such as wifi, that ensure different manufacturers' devices work together. In the US, when an agreed-upon standard includes technologies covered by patents, the companies who own those patents agree to license them for "fair and reasonable" terms.
Apple argues that the technologies whose intellectual property Motorola owns are worth at most $1 per unit, and Microsoft has said that under a 2.25% deal, it would owe Motorola $4 billion a year. In requesting this amount, Motorola has countered that it "[created] the mobile phone industry and that "both Microsoft and Apple need to show that they're willing to be reasonable as well by respecting the contributions [of Motorola]."
Motorola's fight with Apple and Microsoft predates its acquisition by Google. But Google allowed the lawsuits to continue, giving the FTC just the opening it needs given that its charges regarding Google's search practices may be hard to prove. "The FTC is thus probably looking at other areas to press in any case against Google—hence the discussion of "other complaints" such as standards-essential patents." argues industry watcher Greg Sterling.