In recent years, the Parisian luxury house Hermès—best known for accessories such as its iconic Birkin bag, richly printed silk scarves, and equestrian-inspired leather goods—has regained high-fashion credibility in the realm of womenswear. That's largely thanks to designer Christophe Lemaire, who took the reins of women's ready-to-wear for Hermès in June of 2010, after a decade at Lacoste.
Now, the 49-year-old designer has announced that Hermès' spring 2015 womenswear collection (to be shown in October) will be his last for the brand. He is resigning to concentrate on his own collection, which he suspended between 2003 and 2007, and now shows at Fashion Week in Paris.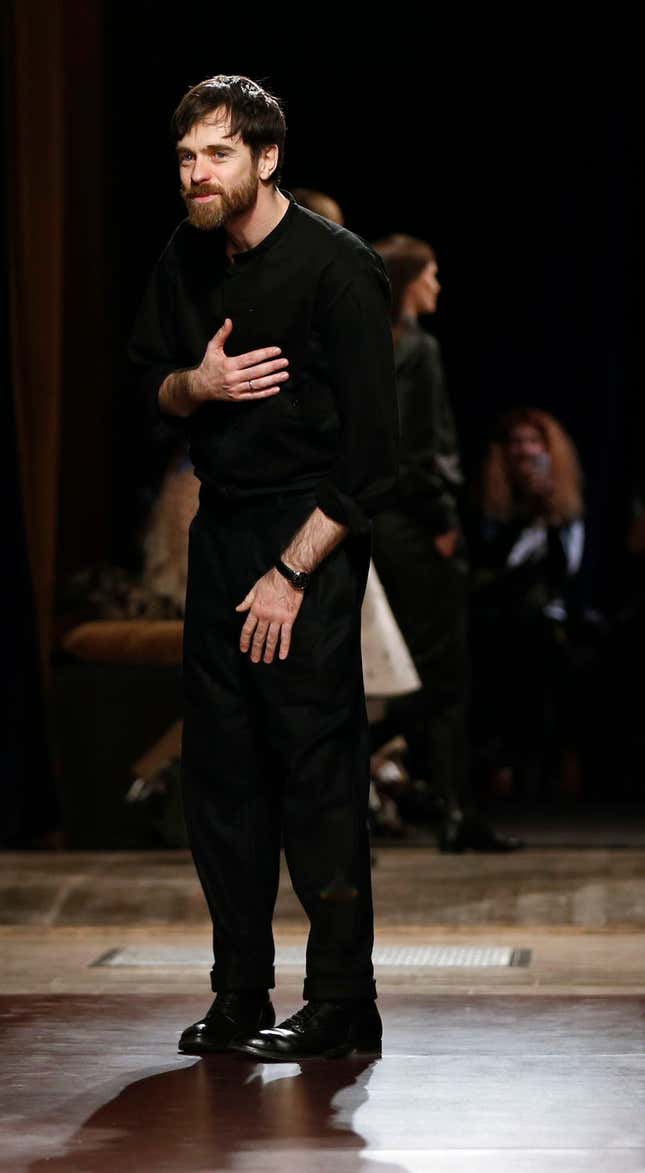 Since his first collection for Hermès, Lemaire's designs displayed a minimalist ease that were a marked change from the more flamboyant designs of his predecessor, Jean-Paul Gaultier—and right on time. As fashion began to re-embrace practical dressing (epitomized by Phoebe Philo's success at Céline) Lemaire's were looks for women who prefer a less ostentatious take on luxury—a word he eschewed. "At Hermès, we don't say we do luxury," Lemaire told the New York Times after his debut collection for the brand in 2011. "We do useful objects of an extreme quality. You have to think about the comfort, the functionality, the pockets, the way the clothes will age. The inside is as important as the outside. The extreme quality that you feel, rather than show, is extremely important."
That attitude, combined with exquisite materials and color palettes, made Lemaire's reign at Hermès a time of quiet glamor—of covetable coats and highly wearable separates. After this spring, Lemaire's fans should be able to find his signature pieces at the designer's eponymous label. It will be fun to watch his brand develop with the designer's full attention.
As for womenswear at Hermès, it's anyone's guess. The brand made a 180-degree turn when they assigned Lemaire, then a lesser-known name, to the post previously occupied by the showman Gaultier in 2010. Axel Dumas—a sixth-generation member of the Hermès family—stepped up as CEO earlier this year. His choice of a new designer will be closely watched.