There's been a lot of talk about the upcoming fall TV season in the US being the most diverse one in terms of casting, from ABC's new show Black-ish to Fox's Brooklyn Nine-Nine entering its second season. But behind the scenes, the writers' room remains largely the domain of white men.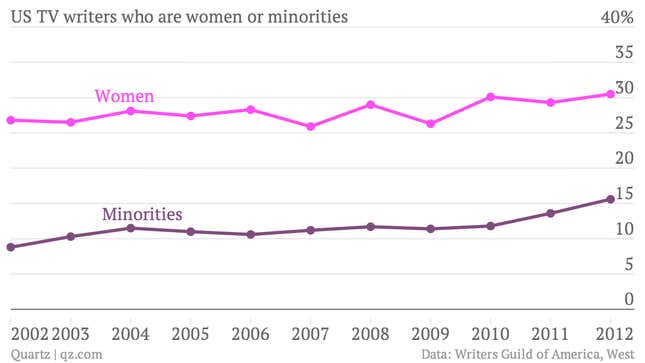 Numbers from the Writer's Guild of America, West (WGAW), the labor union that represents writers for US TV, movies and other media, indicate that while representation has improved for women and minorities in the decade from the 2001-2002 TV season to the 2011-2012 season, they still make up only a small portion of the industry. Writers may be less visible than actors, but they can determine whether a show will promote an understanding of cultural differences, or perpetuate racial and gender stereotypes. In the 2011-2012 TV season, less than a third of writers were women and only one in seven was a minority. (If writers' rooms of US TV shows were to reflect the country's actual demographics, they would be half women and more than a third minorities.)
The racial and gender makeup of writing staffs varied from network to network. Unsurprisingly, the Black Entertainment Television channel led when it came to racial diversity, with 95% of its writers minorities in the 2011-12 season—making it an distinct outlier. Other than BET, the teen-focused music and reality TV channel VH1 led the pack in racial diversity, followed by A&E and Syfy. The least racially diverse channels were Comedy Central and IFC.
BET also came out on top in gender diversity, with 55% women writers. ABC Family and Lifetime, both networks with large female audiences, were in the next two spots, though they fared worse on minority representation. Spike TV and IFC were at the bottom of the gender diversity list.
Broadcast networks lagged way behind—none of them cracked the top 10 in women hires, and only Fox was in the top 10 for minorities. (Of course, the total number of writers is higher at larger networks, meaning they also employ more women and minorities in absolute terms.)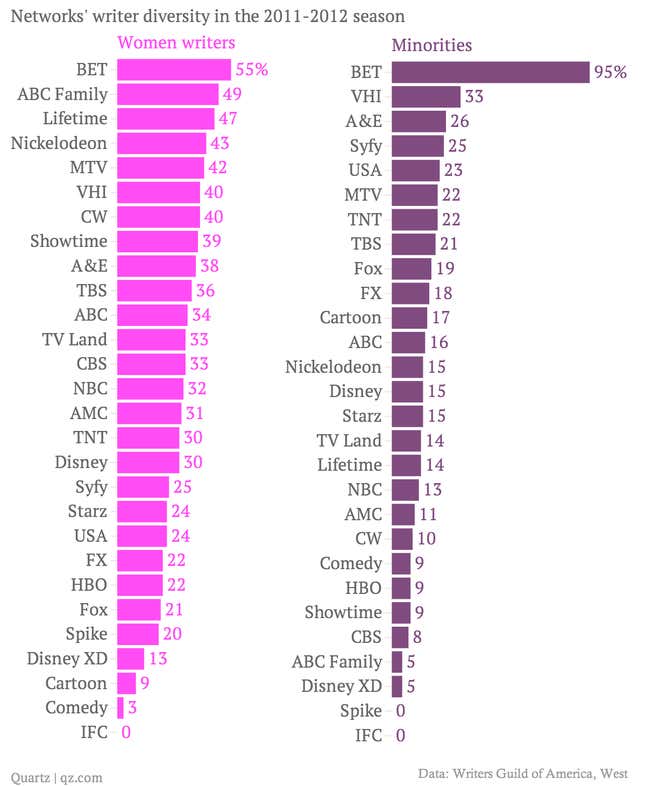 And then there are the individual TV shows. Shonda Rhimes, often called the most powerful woman in television, maintains a relatively high level of diversity on her shows, which include Grey's Anatomy, Scandal and ABC's new fall drama How to Get Away with Murder. But many other shows that are popular with audiences or critics are seriously lacking in writer diversity (and some of them are pretty lacking in cast diversity, too).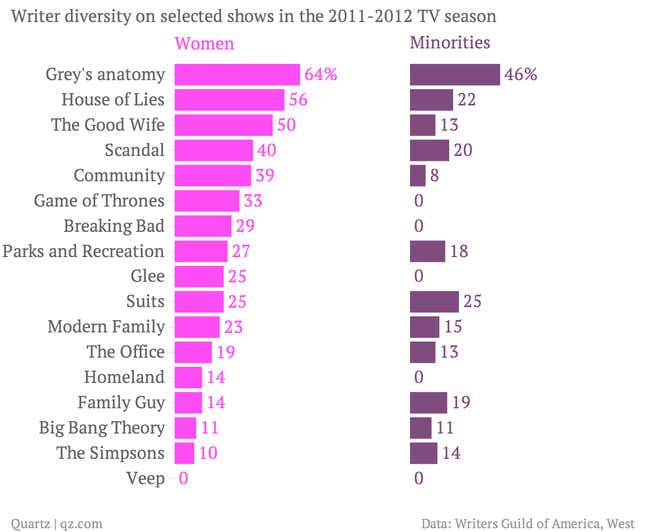 There are some efforts to increase diversity—a few fellowships and programs target minorities and women. The Writers Guild of America, East is lobbying to set aside $3.5 million of New York state's production incentives for hiring writers in New York who are women or minorities.
But for those who make it onto TV writing staffs, the inequality continues. Even once they're hired, women writers earn less than men, and most minority groups earn less than white writers. (Asian TV writers were the only ones who earned more than white writers in 2012.)

The Asian-American TV writer Lisa Takeuchi Cullen said the landscape for non-white writers can be bleak, with only a limited number of niche shows that focus on their communities. For example, she was recently told that there probably isn't room for a pitch focusing on Asian characters, because people are waiting to gauge the success of ABC's Fresh off the Boat, a half-hour comedy about an immigrant family who moves from Washington, DC's Chinatown to suburban Orlando.
That's why it's important to diversify writing staffs, Cullen said. "It will take people like me pushing these ideas and saying no, that's ridiculous," she said. "To write the script and say 'Look, this is so good that you have to shoot it.'"