Indonesia's economy may be slowing, but it has a secret weapon: its consumers.
Today's GDP figures show 6.2% growth in the third quarter. It's a rate most countries would envy, but it's the slowest pace in two years. That has prompted some to conclude that the Southeast Asian economy is no longer immune to global headwinds (paywall). Falling Chinese demand in particular for Indonesian commodities like palm oil, coal and rubber caused a quarterly fall of 2.7% in exports.
But unlike many other emerging Asian economies, Indonesia is not lopsidedly reliant on exports. Bank Indonesia reported that retail sales, a gauge of domestic consumption, grew 22% year-on-year (the figure for the previous month was a relatively sluggish 10.6%). Through the years, consumer spending has steadily contributed to to the country's growth (paywall). And if Indonesia's economy continues to grow as it has, millions more will enter the middle class over the next decade. It's a situation China's central planners should envy. Chinese officials have long been trying to "rebalance" China's economy to depend more on consumer spending at home rather than exports.
In 2006, the world's fourth most-populous nation was home to 6.6 million households with an annual disposable income of over $10,000. By 2011 that number had more than doubled, to 13.7 million. If all goes well, it could reach as much as 31.1 million by 2020, predicts Euromonitor, a London-based market research outfit.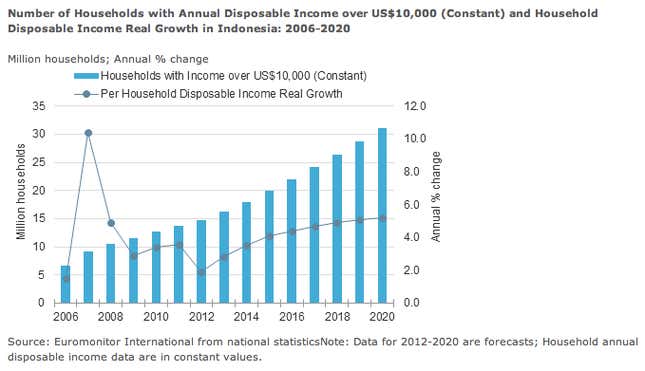 Right now Indonesia's consumers are spending on basics like food and housing; the Bank Indonesia retail survey found the rise in retail sales was due to higher demand for home appliances, drinks, cigarettes and food. Euromonitor predicts that between 2012 and 2020, consumer spending per household is likely to grow by 39.2% and household disposable income will increase by 40.5%, meaning more money for discretionary spending on luxury goods, cars or to put toward investing and saving.
Swedish home goods retailer IKEA is opening its first outlet in Indonesia in 2014, and foreign investors have poured money into the country, in part because of the strong consumer base. Indonesia attracted $5.9 billion in foreign direct investment in the third quarter, a record for the country.
In September, McKinsey wrote that Indonesia "is a much more stable and diversified economy than many outsiders assume," (pdf, p.1) and said that if the country capitalizes on its growing urban consumer class, it could become the world's seventh largest economy, up from its current ranking of 17th, by 2030. Already Indonesia is likely to grow faster in 2012 than places like Vietnam, Russia, and Brazil and India; the World Bank estimates it will hit 6% growth for the year. If domestic consumption continues growing, the archipelago economy will be even better shielded from downturns in the global economy.