Call it the 21st century version of hitchhiking: BlaBlaCar is a peer-to-peer marketplace for open spots in cars across Europe. Unlike American ride-sharing apps Uber and Lyft, BlaBlaCar caps the price of the ride based on distance and the cost of fuel in that country. The average ride is 200 miles and the average fare is less than $25.
BlaBlaCar was born in 2006, when Stanford student Frederic Mazzella wanted to go from Paris to visit his family in the French countryside and couldn't find a train—nor an easy way to share a car on Craigslist. (The name comes from rating yourself on your level of in-car chattiness from "Bla" to "BlaBlaBla.")
Every month, one million people use the service, now operating in 12 countries, to share a car. "What we're doing is building a massive transport network out of all of these empty seats in cars," Nicolas Brusson, the COO of BlaBlaCar told Quartz. "There are more seats available between Berlin and Munich in cars, for example, than there are train seats or bus seats."
BlaBlaCar's fee model is structured to avoid a plague of the sharing economy—fights with established industries that don't like being disrupted. Uber is the subject of protests from taxi unions all across Europe and has been banned in Seoul; Lyft struggles to get approved in New York; and Airbnb's lawyers are fighting for their users who have been prosecuted for illegally running hotels. "We don't want a driver to make a profit because then you end up in regulatory issues," Brusson says. "If you don't make a profit, you don't have to worry about a special license."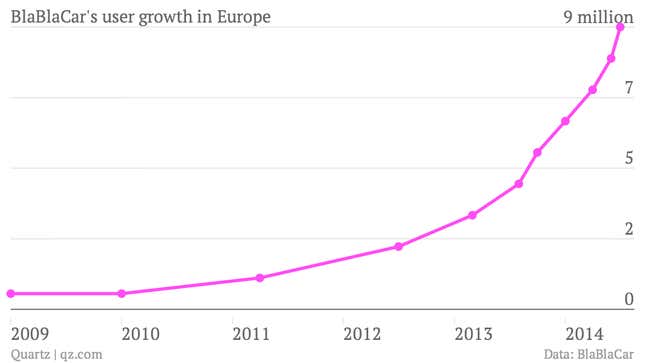 Capping prices reduces the experience of ride-sharing to one of simple economics. While it's compared to startups like Airbnb, what BlaBlaCar actually offers is a service focused around cost, which is makes it more akin to budget airlines like Ryanair or Spirit airlines. "We do a low-cost service for the 99%," he says, "unlike say, an Uber, which is for the 1-2%." And unlike Airbnb, which is courting business travelers, BlaBlaCar says it has no imminent plans to introduce premium options.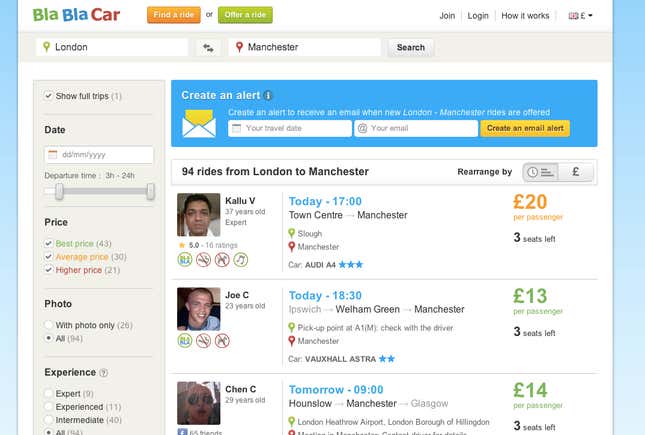 By using Facebook logins, the service is attempting to ensure safety. In order to attain reimbursement, the passengers must give the driver confirmation codes to ensure the trip was safely completed. It also has a "ladies only" option whereby female users can offer a ride exclusively to other female passengers.
The company now has more than 9 million users and says it's growing by 200% every year; it's currently focused on its international expansion. "Russia is taking off like no other country in Europe has taken off," Brusson says, with 250,000 new members joining in three months—and this, despite journeys between some cities taking 10 hours. BlaBlaCar reached 1 million members in Germany within a year, and has been acquiring ride-sharing companies such as Postoinauto in Italy and Podorozhniki in Ukraine as it has expanded east.
Earlier this month it raised $100 million from venture capitalists, which it's using to expand into countries like Turkey, India and Brazil where the existing transport networks are quite rudimentary. "What we're building is more fundamental than what we're doing in France," Brusson says. "If you look at Russia and Turkey and other emerging markets, we start linking cities that don't even have trains. We are enabling a layer of infrastructure that isn't there."