Family planning counts for a lot when it comes to development in poor countries. It lowers mortality among women and infants, improves educational outcomes, and slows population growth. It also makes it easier for women to enter the workforce, which acts as an economic booster shot even in wealthy nations such as Japan.
But the costs and complications of effective contraception can be hard for poor families to manage, especially in cultures where husbands may not approve of their wives controlling their reproductive choices. But these economic, logistical, and even cultural problems may have a design solution: The "Sayana press" is a combination of Pfizer's injectable contraceptive Depo-Provera and the Uniject, a special combination syringe and medicine storage device developed over the last two decades to help vaccine distribution in poor countries.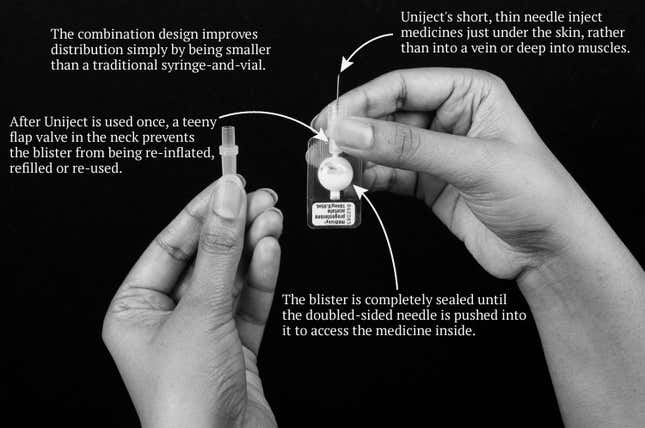 The device itself solves a number of problems: It makes delivery more effective because it is smaller than traditional syringes. There is never a mismatch between the number of syringes and the number of doses available. And because Depo-Provera is injected just underneath the skin, only simple training is needed for a health worker to administer a shot—in fact, the project's backers hope that women will someday be able to simply inject themselves.
Depo-Provera provides three months of effective contraception with each shot, which also makes it easier for women to manage than daily pills. Another health problem Uniject fights is the reuse of syringes, which is all too common in poorer countries and spreads disease, with HIV/AIDS among the most serious threats. After a Uniject is used once, a teeny flap valve in the neck prevents the blister from being re-inflated, refilled and re-used.
This device was developed by PATH, a non-profit that works with companies to develop effective health technology for developing countries, beginning in the late 1980s. By the late 1990s, it had partnered with BD, the medical device maker, to manufacture them on a grand scale, and since 2000, 88 million have been used to deliver vaccines in Asia, Africa and Latin America. This is the first time, however, that the device has been used to deliver contraceptives.
This year, 250,000 Sayana presses will be distributed in Burkina Faso, which is trying to raise contraception availability from 15% to 25% of women by the end of next year. PATH is working with international health organizations and local health ministries to finance and distribute the contraceptive devices in Niger, Senegal, Uganda, and Bangladesh soon.