Facebook just posted another set of stellar quarterly results, surpassing most expectations for profits and sales as it reaped massive benefits from selling mobile ads, which now make up the majority of its business. And more of the world is using Facebook, as monthly active users hit a new peak of 1.32 billion, up about 200 million from a year ago.
But there's just one problem. Facebook's hugely profitable mobile ad business is mostly taking hold in already saturated markets such as the US, Canada, and Europe, where the social network's growth rates are slowing. And users in Asia and the developing world, which are still growing rapidly, are much less attractive to advertisers, and are hence worth much less to Facebook.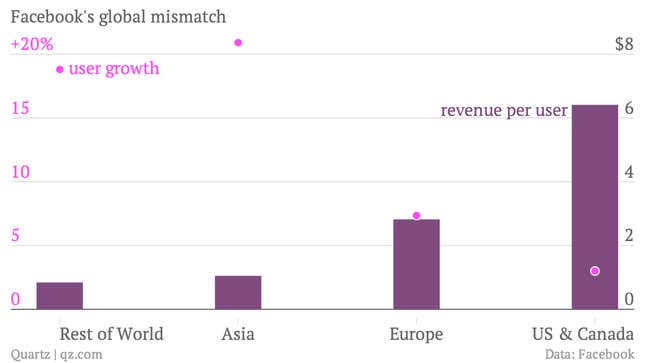 Facebook is well aware of the problem. COO Sheryl Sandberg took a high-profile trip last month to India, which has about 100 million active Facebook users but contributes less than 1% of the company's revenue. And revenue-per-user numbers for the developing world are rising—just not as fast as in Facebook's developed, slow-growing markets.