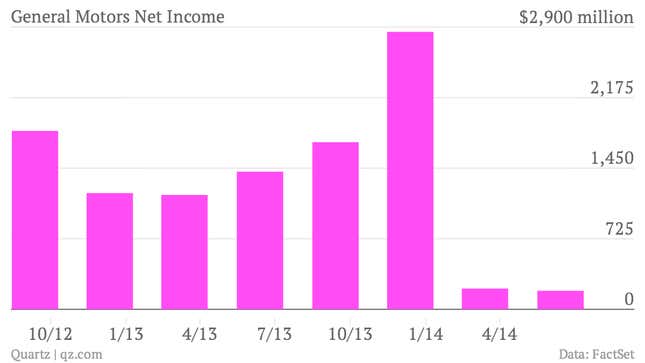 The numbers: Weighed down heavily by the company's ongoing series of recalls. General Motors had to account for repair costs and one-time charges related to compensating victims hurt or killed in accidents caused by an ignition switch flaw and changed how it measures future recalls expenses, costing it more than a billion dollars in total. That left net income of $190 million, down 85% from the same quarter last year. Without those expenses, net income would have increased. Revenue was $39.6 billion, up $500 million from the same period a year ago.
The takeaway: GM is likely to feel the financial repercussions of the millions of cars it has recalled for years to come. The company has recalled 29 million vehicles this year, many of which haven't yet been repaired. To give a sense of the pace, GM recalled around 15 million vehicles for ignition switch related issues so far this year, and repaired around 560,000 in the second quarter. It announced a recall of more than 700,000 vehicles for a separate issue just yesterday.
What's interesting: Though recall costs are weighing heavily on the company's bottom line, revenue has been surprisingly robust, actually rising compared to last year. Despite all the bad press, consumers are still buying quite a lot of GM vehicles around the world.