July 24 was National Tequila Day in the US, where sales of the agave-based spirit have more than doubled over the past decade, passing the $2-billion mark in 2013.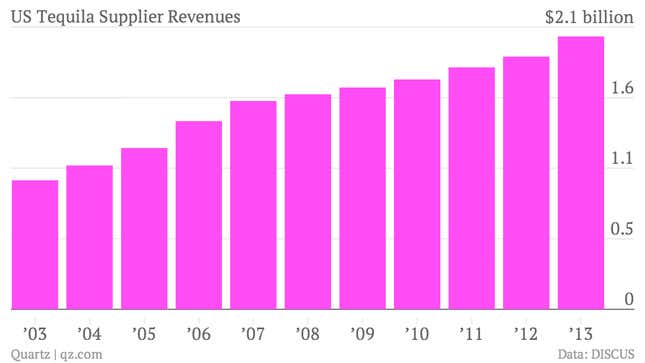 The fastest growth in the US market has been in high-end and super-premium tequila, which tripled and quintupled in sales between 2003 and 2013, respectively, according to the Distilled Spirits Council of the United States (pdf). The days of tequila being seen as a bargain-priced hooch that needs to be tempered with lime and salt are over, and the liquor has made it to the top shelf, a "rarefied and refined" drink worthy of being sipped on its own.
The spirit has inspired a new and fanatical connoisseurship, with bars specializing in dispensing it and tourists traveling to the mountains outside of Guadalajara, Mexico, where tequila is made using 400-year-old methods of processing agave, such as mashing it with volcanic stones (with some new innovations, such as playing classical music to the mash during the fermentation process). Producing high-end 100% blue agave tequila is a labor-intensive, low-yield process—and one that is regulated with a "multi-tiered, mildly Orwellian program includes random quality checks, satellite surveillance of agave fields… and even a debit card-like plant-monitoring system," according to Imbibe magazine.
Celebrities including George Clooney and Justin Timberlake launched their own tequila brands recently, and Patron released two new high-end varieties this year: Gran Patron Piedra, which sells for $399 a bottle, and Roca Patron, an "artisan" line of tequila. Gran Patron Piedra is an ultra-aged, or "extra añejo" tequila—a category that didn't even exist until 2005, when it was defined (pdf, Spanish) by Mexico's National Committee on Standardization as tequila that's aged for a minimum of three years in oak barrels.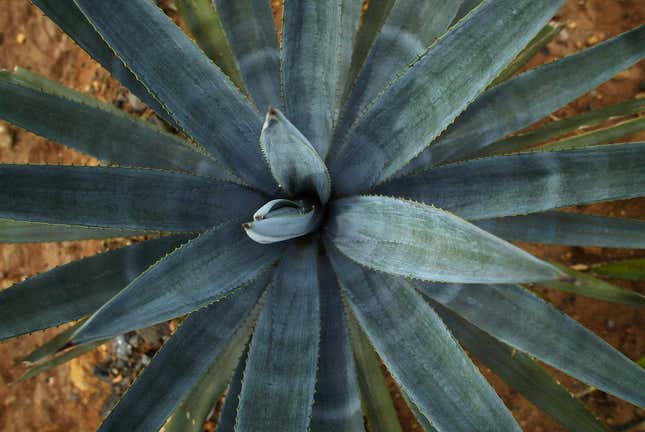 But even as the high-end varieties skyrocket in popularity, the value and premium categories—the tequilas best downed in mixed drinks—are still the "backbone" of the US market, according to DISCUS. Margaritas were the most popular cocktail in the US last summer. The key to tequila's US growth, according to the Distilled Spirits Council, is that manufacturers have figured out how to make the liquor "accessible to all Americans" by offering tequilas "for every budget and occasion."
Flavored tequilas at the lower end of the market were officially recognized by Mexico's National Committee on Standardization in 2005. Tequila was suffering "an identity crisis" at the time, according to the Associated Press, having graduated from its original status as a poor man's liquor but struggling to capture new segments of the international market. Mexico's regulatory council decided to follow in vodka's footsteps by legitimizing flavored varieties of tequila, in hopes of staving off what looked like a coming agave glut—a surge in tequila popularity in the 1990s had led to an agave shortage, which farmers overcompensated for with a rush in planting the crop. With agave taking up to a decade to mature, this led to too much agave in the early 2000s.
Although tequila consumption has been largely in Mexico and the US, the international market is growing. It has made some headway in the UK already, and its next big market, predicts Spiros Malandrakis, an alcoholic drinks analyst at Euromonitor, will be China. "With the gates of China now finally open following legislative amendments that allow 100% blue agave varietals to be legally sold in the country," he wrote earlier this year, "super premium tequilas will extend their seemingly unstoppable march beyond Western metropolitan centres."