Usually when a company rushes to report its results early, it's because of bad news. But Royal Bank of Scotland shocked the markets today, in a good way, when it released its first-half earnings a week early.
The partially nationalized British bank, which became a byword for banking disaster during the financial crisis, says that its profit nearly doubled in the six months to June (pdf), to £1.4 billion ($2.4 billion) from a year ago—well above market expectations.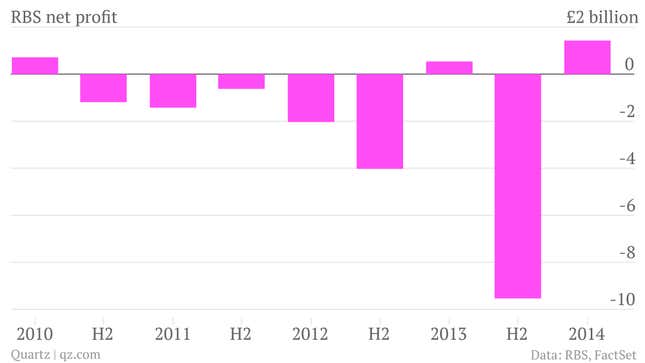 Chief executive Ross McEwan hailed the "steady progress we are making as we take the steps to be a much simpler, smaller and fairer bank." The UK's perky economy is boosting the bank, which owed its better-than-expected results to sharply lower loan losses in recent months.
The bank's shares, 80% of which are owned by the British government, soared on the news: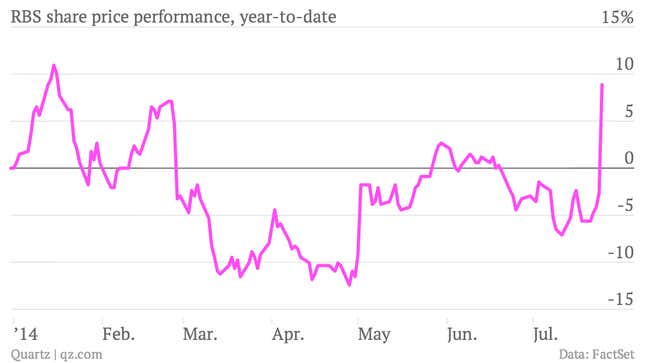 Oddly, the lender got a particularly big boost from its "bad bank," the special division created last year to quarantine the group's most toxic assets from the rest of the company. Loan losses plunged by nearly £2 billion in the first six months of the year at the division, as it fetched higher prices on asset sales and suffered fewer defaults on what remained behind. It actually eked out a small operating profit in the second quarter, which is hardly "bad" at all.
The bank expects to offload around half of the unit's £29 billion in assets by the end of this year, and thanks to its "strong performance in the first half and the more favourable economic environment," the lifetime cost of winding down the division will be £1.5 billion less than originally anticipated, RBS said. This is encouraging news for the many other banks that have hived off assets into bad banks, charging special teams to wind them down.
But RBS isn't out of the woods yet. McEwan warned of "significant conduct and litigation issues that will likely hit our profits going forward." And despite the jump in the bank's share price today, it still sits some way below the level at which the government bought into the group when it was on the brink of collapse in late 2008. "No one should get ahead of themselves here," McEwan said today. "There are bumps in the road ahead of us."