When the Chinese Communist Party announced Zhou Yongkang's detention yesterday, it surprised exactly no one. The CCP has been closing in on the former head of China's police and legal system, since at least Oct. 2012, when Xi Jinping became president. As the jails have filled up with Zhou's cronies and Zhou himself languished under house arrest, it became increasingly clear that his official detention was a "when," not an "if."
Less clear—in fact, entirely opaque—is why exactly Zhou had to be brought down in the first place. Here are the prevailing narratives:
Xi the all-powerful: Zhou's detention violates the "unspoken rule" that former high-ranking officials receive amnesty from corruption charges, in a sign that Xi is brandishing his political might and willingness to crush political enemies. Zhou reportedly opposed Xi's ascension.
Zapping Jiang Zemin's power base: After the ouster of Bo Xilai and Gen. Xu Caihou, Zhou's takedown eliminated the last remaining source of influence for former president Jiang.
The triumph of Xi's "anti-corruption crusade": To restore the country's faith in the Communist party, Xi had to clean up its ranks by making an example of corrupt officials. Bagging Zhou—who along with this family and allies amassed $14 billion in ill-gotten wealth—proves that no one is above the law.
Clearing the path for economic reform: To force the party elite to support his economic reform agenda, Xi needed to threaten the powerful bureaucrats behind state-owned companies—Zhou's patronage network included the state-owned oil sector—and more generally conservative leaders.
Ousting opposition to rule of law: A variation on the previous theory, this one argues that Zhou's extensive connections from his years as head of security and the judiciary required Xi to remove him before instituting the rule of law (paywall), which China currently lacks.
Factional infighting: The unprecedented takedown of such a high-up retired politician hints that the normal tussle between factions and interests has escalated to a degree the party's stability may be in jeopardy.
While some of those theories are plausible, none is wholly satisfying. They're also just guesses: with the exception of Xi and a few dozen colleagues, no one ever really knows what's going on inside the party.
There is one thing about which we can be sure, though. By busting Zhou, Xi is engaging in a time-honored tradition of CCP political purges. As you'll see in the timeline below, one of the first things a new regime does when it takes over is to purge leaders who might form an institutional opposition to new policies—usually be charging foes with corruption. In other circumstances, purges have been used to eliminate political rivals who have grown too popular or too powerful. Here's a rundown of the Chinese Communist Party's greatest hits:
Mao Zedong (1949-1976)
Peng Dehuai: China's minister of defense, vice-premier and vice-chairman of the National Defense Council in 1954, Peng was purged in 1959 for his criticisms of Mao and the Great Leap Forward. He was replaced by Lin Biao, whom Mao eventually eliminated as well.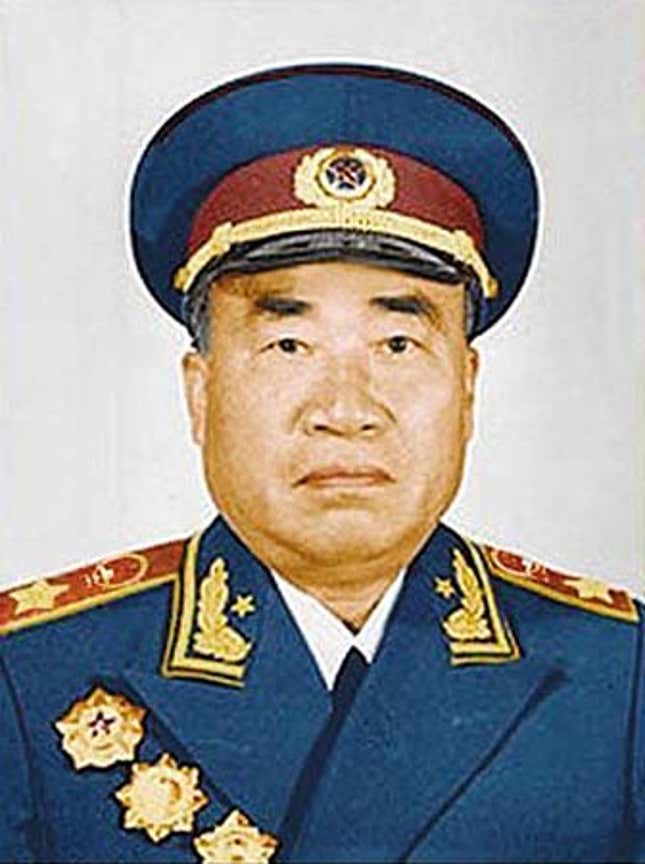 Zhu De: Commander-in-chief of the People's Liberation Army (PLA) in 1945 and marshal of the PLA, Zhu was purged from the Politburo Standing Committee in 1966 during the Cultural Revolution for his supposedly anti-Mao sentiments, only to be reinstated in 1971.
Liu Shaoqi: Having served many roles in the Chinese Communist Party, Liu took over Mao's job as president of the People's Republic of China in 1959. Yet during the Cultural Revolution, Liu's disagreements with Mao saw him labeled a traitor, placed under house arrest and purged from the party in the late 1967. Liu died shortly thereafter.
Deng Xiaoping: Ousted from power in 1933, Deng returned to the political stage only to be purged again in 1966 for his reform ideas—including free markets for farmers—following the devastation caused by the Great Leap Forward. However, he was rehabilitated and returned to leadership in 1973.
Lin Biao: A veteran of the Long March and Cultural Revolution, Lin worked closely with Mao, putting together the Little Red Book, a treasury of Mao wisdom that symbolized the Chairman's personality cult. Yet in 1971 Lin mysteriously died in a plane crash after supposedly mounting a coup; though no one really knows what happened, many suspect the "accident" resulted from Mao's discomfort with Lin's rising popularity.
Hua Guofeng (1976–1981)
Gang of Four: The gang—made up of Jiangqing (Mao's third wife) and three other high-level officials— were put on trial in 1980 for various crimes committed during the Cultural Revolution including treason, attempting to seize power, and building their own army.
Chen Boda: Mao's political secretary and a key player in building up the cult of Mao, Chen was instrumental in purging leaders like Deng and Liu. However, he was purged from the PSC in the early 1970s after falling from favor. In 1980, four years after Mao died, Chen was tried along with other leaders of the Cultural Revolution and eventually sentenced to 18 years in prison, though he was released soon after on parole.
Deng Xiaoping (1981-1989)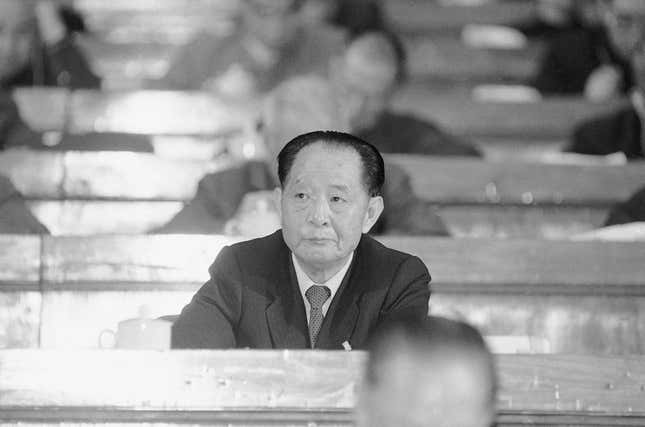 Hu Yaobang: Former CCP General Secretary Hu Yaobang was purged in 1987 for his reform-centric, anti-corruption beliefs. His death became the catalyst for the Tiananmen Square demonstrations.
Zhao Ziyang: Deng's prime minister, Zhao was purged and placed under house arrest in 1989 after expressing sympathy for the Tiananmen Square protesters, not to mention his beliefs in reform and criticism of the government. Zhao's purge paved the way for Jiang's rise.
Yang family clique: After two generals, Yang Shangkun and his brother, Yang Baibing, started purging PLA officials and building up their own network of influence, Deng ordered their purge in 1992-1993.
Jiang Zemin (1989-2002)
Chen Xitong: Mayor of Beijing during the Tiananmen Square Protests, Chen was purged from office in 1995 on corruption charges and sentenced to 16 years of prison in 1998, supposedly for threatening Jiang's power.
Hu Jintao (2002–12)
Chen Liangyu: Hu purged Chen, then party secretary of Shanghai and a Jiang protégé, in a high-profile corruption case in Sep. 2006.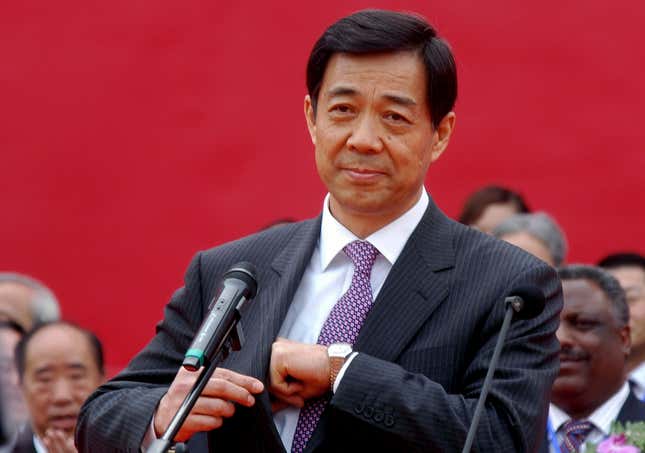 Bo Xilai: The former Chongqing party secretary and son of one of the PRC's founders, Bo was a rising star in the party and populist sensation when his wife was arrested for the 2011 murder of a British businessman. Bo was sacked for abuse of power and, found guilty of corruption charges, was sentenced to life in prison in 2013.
Li Chuncheng: The former vice party chief of Sichuan province was first detained in Dec. 2012; only in Apr. 2014 was he officially removed from his post after allegations of accepting large bribes. Li was a known Bo supporter.
Xi Jinping (2012-)
Gu Junshan: Lieutenant general and deputy chief of the PLA's logistics department, Gu was charged with "bribery, embezzlement, misuse of state funds, and abuse of power" in 2012. He is still undergoing investigation as of Apr. 2014. Gu's patron was Xu Caihou, and therefore, Jiang.
Li Dongsheng: Li was removed from the post of vice minister of public security in Feb. 2014 amidst rumors of an anti-graft campaign surrounding Zhou Yongkang who was in office when Li became vice minister in 2009.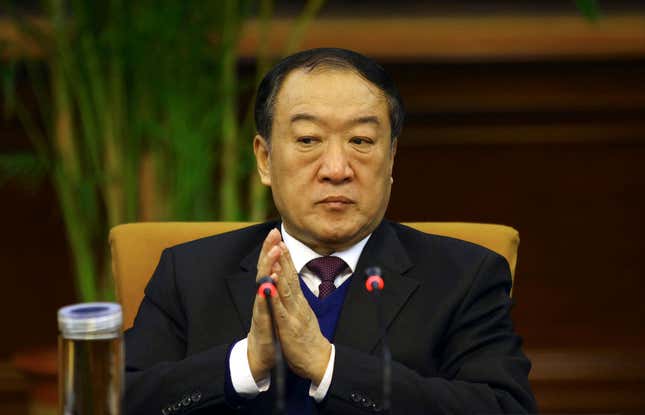 Su Rong: Previous vice-chairman of China's parliamentary advisory body, and loyal to Jiang Zemin, Su was purged in June 2014. He was investigated for allegedly violating party law; his wife was also suspected of ties to corrupt land and construction deals. Xu Caihou: Expelled from the party in late June 2014, Xu, an ex-general and Jiang ally, was accused of "accepting bribes in order to grant military promotions."
Wang Yongchun: Vice president of China National Petroleum and head of Daqing, China's largest oil field, Wang was placed under investigation in Aug. 2013 for suspected corruption and embezzlement. He was expelled from the party June 2014.
Ling Zhengce: Ling, vice-chairman of Shanxi's Chinese People's Political Consultative Conference (CPPCC), was taken into custody June 2014 on corruption charges. His brother Ling Jihua, who worked as Hu Jintao's personal secretary and who is said to be the founder of the "Shanxi gang," a group of politicians who can trace their careers to Shanxi province, may soon fall under investigation too. Other members of the Shanxi gang—and those from Shanxi—were arrested in recent months on corruption charges including Xie Kemin, former deputy head of the Shanxi's anti-corruption bureau; Wang Jiankang, Lin Zhengce's brother-in-law and deputy mayor of Yuncheng in Shanxi; and Yang Senlin, the executive deputy secretary of the provincial graft-fighting body.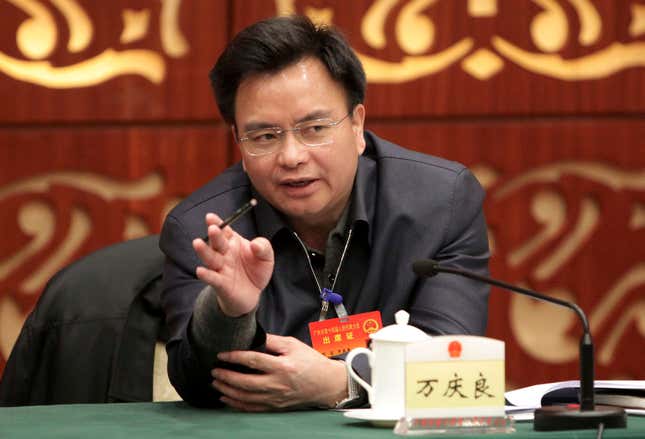 Wan Qingliang: Guangzhou's Communist Party secretary was dismissed from his post after corruption allegations.
Wu Changshun: Wu, the head of the police in Tianjin, was detained earlier this month on corruption charges.