Twitter shares are up 35% in after-hours trading following better-than-expected second-quarter results.
Twitter's user growth, revenue, and engagement stats all look good, and Twitter can thank the World Cup for a lot of that. CEO Dick Costolo even referenced it high up in the company's earnings press release (pdf), saying, "…by developing new product experiences, like the one we built around the World Cup, we believe we can extend Twitter's appeal to an even broader audience."
Here's a look at Twitter's last quarter in charts.
Most important, Twitter's monthly active users (MAUs) beat expectations. Twitter reported 271 million for the quarter, while analysts were expecting something around 265 million.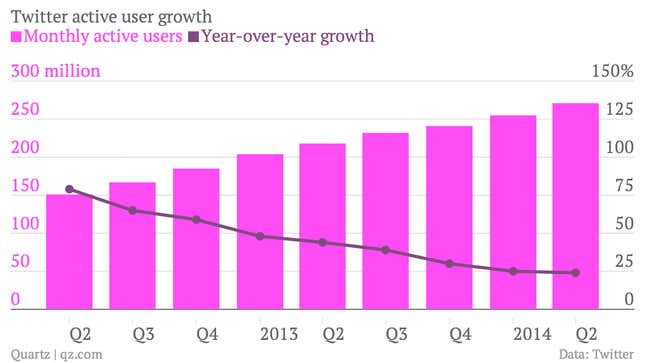 Twitter's ad business also blew past expectations. Twitter posted $312 million in second-quarter sales, up 124% from last year—and way more than the $283 million that investors were anticipating. Twitter says mobile advertising revenue was 81% of total advertising revenue, versus 62% for Facebook.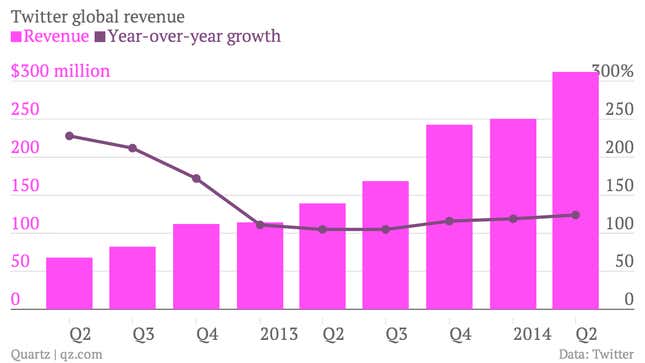 Twitter's user growth in the US—its most lucrative market—was stable, adding three million users during the quarter. But international growth ticked up to 13 million new users during the quarter. Twitter attributed this growth to product improvements it has made.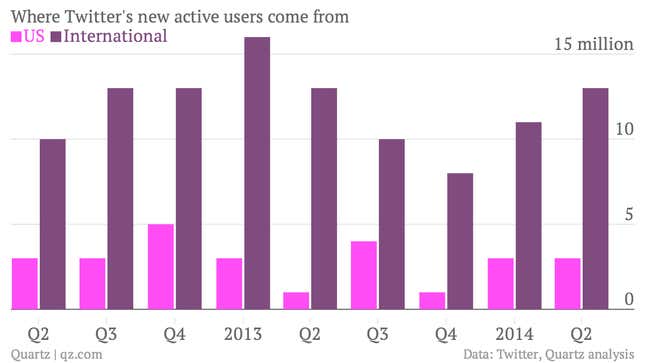 Twitter is still a fraction of Facebook's size: 271 million monthly active users vs. Facebook's 1.3 billion. But Twitter's growth in MAU net additions was almost 40% as large as Facebook's last quarter, only the second time it's been that strong in the last two years.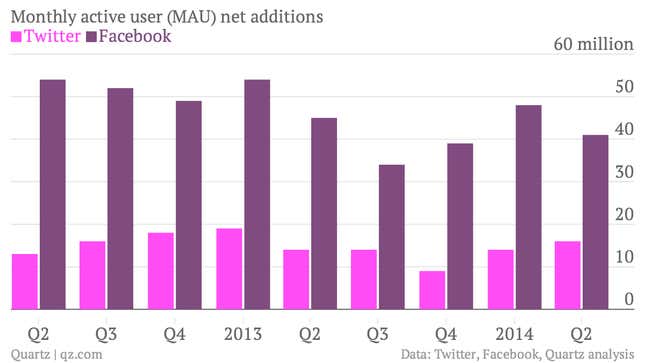 Twitter users in the US were slightly less engaged in the second quarter: 792 timeline views per MAU, down from 804 in the first period. But international users were more engaged: 596 timeline views per MAU, up from 560 in the first quarter. Twitter credits the World Cup for some of that increased engagement.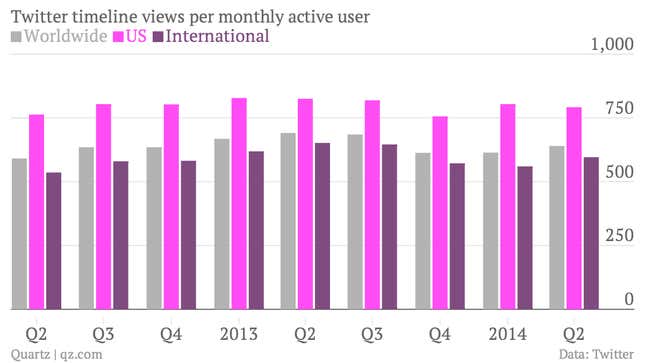 Why are US users so important to Twitter? The company still generates five times more revenue per 1,000 timeline views by its US users than its international users. Still, both numbers increased nicely last quarter to all-time highs.