Amazon's first phone—the Fire Phone—is not a hit with critics, who have mostly panned its interface and app selection. But it is finding some sort of audience: The standard-issue Fire Phone has been Amazon's top-selling mobile phone all week.
Quartz has saved a copy of Amazon's feed of its top-ten best-selling contract phones each hour since midday Monday, graphed below. The basic, 32 GB Fire Phone has been in the top position every hour—except once in the second position. The 64 GB version, which costs $100 more, has mostly been outside the top ten. (At the time of writing, it's no. 16.) Assorted Samsung and LG phones usually fill the rest of the ten.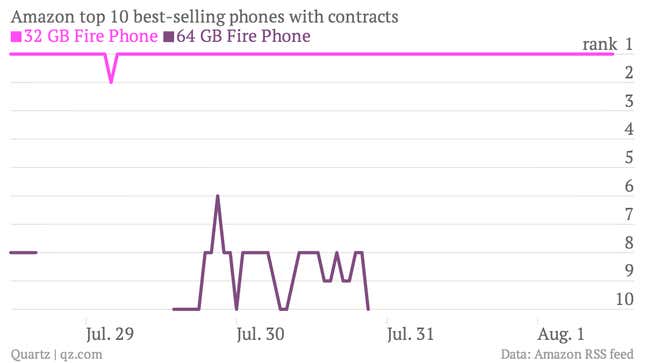 Without knowing actual sales figures—something Amazon will likely never disclose, at least in any useful format—it's tough to draw any significant conclusions. Amazon's own devices are often near the top of its bestseller lists, such as various Kindles and the Fire TV on the top-selling electronics list, so this is no surprise.
Perhaps this is a symbol of the Amazon homepage's sheer interest-driving power, as Amazon has used its top slot to promote the Fire Phone. Perhaps Amazon sells so few phones overall that the top slot isn't much of an achievement. In June—before Amazon's phone went on sale—a rep for NPD Group, a market research firm, told Quartz that "Amazon is not a factor in sales of smartphones in the US."
Or maybe—critics be damned!—people actually want to try this thing. Whether they keep it is another story. Initial Amazon reviews are not great—it currently has 3.3 stars of five, a full star below the Samsung Galaxy S5. And a search of its 311 reviews returns 46 results for "return."
We'll keep an eye on the sales rankings to see if anything changes after the initial launch buzz dies down. For the record, Amazon declined to provide actual sales stats.