The dialysis unit of the Korle Bu Hospital in Accra ran out of water just as Kwadwo Ohene Sarfoh's elderly father was being hooked up to a machine. The nurses shrugged—there wasn't much they could do. So Ohene Sarfoh had to hire a tanker truck to deliver water to hospital. This was earlier this year—boom time Ghana: steady economic growth, the façade of functioning institutions, the good-news story everyone wanted—but the biggest hospital in the country routinely ran out of water.
The boom is now officially over. Last week, Ghana announced plans to ask the International Monetary Fund for a bailout to prop up the country's currency, which fell almost 40% against the dollar this year. News of the bailout was a surprise to most of the world: Ghana is Barack Obama's "wonderful success story economically." But the average Ghanaian could have told you something was wrong years ago.
People were worried in 2011: the Ghanaian economy grew by a record 15%, but few new jobs appeared. They were worried in 2012, when the blackout-prone Electricity Company of Ghana (also known as "Either Candle or Generator") hiked rates by 70% as the government was forced to abandon pricey subsidies. Then in 2013, the government was paralyzed as the Supreme Court dealt with claims of election fraud—and earlier this year, middle-class Ghanaians started stuffing thousands of dollars under mattresses.
The world caught a glimpse of this when, right before their last match at the World Cup this year, Ghana's players demanded their fees in dollars, in cash, up front. The vulgar carnival that followed—$3 million on a chartered jet, a player photographed kissing $100,000 in cash— was actually pretty prudent. The players wanted dollars because the Ghanaian cedi was by then the worst performing currency in the world, worse than those of Syria and South Sudan.
They wanted cash because otherwise they wouldn't be able to get at their money without paying a crippling exchange rate. They wanted it up front because—well, Ghana's full of government workers who haven't been paid in months who could explain why. Middle-class Ghanaians routinely buy everything from property to inventory in dollars, so when the government put limits on foreign currency transactions in February, everyone started hoarding cash.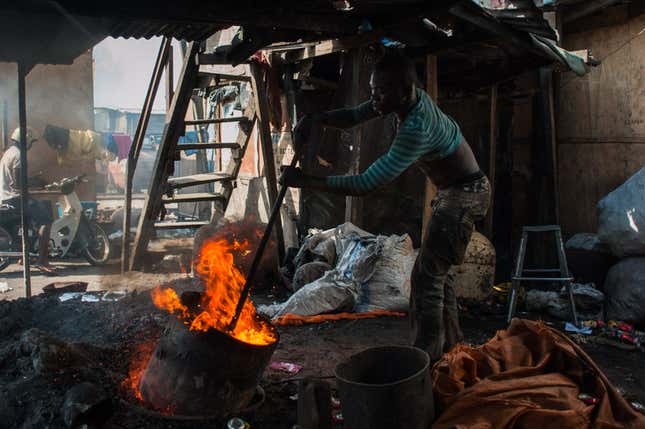 In Old Fadama, the country's biggest slum, I watched as a man melted aluminum cans in a cauldron over an open flame, and tipped the molten metal into moulds. As the 20-lb. blocks cooled, he explained that he sold the recycled aluminum to guys who made cooking pots. This is what the economy looks like for 80% of Ghanaians: small scale, ingenious, and informal. The only real aluminum smelter in the country had to cut production during the World Cup to make sure there were no blackouts during Ghana's matches.
The production of oil in 2010 spurred a great deal of optimism, and was supposed to fix everything. The government, the nation's single biggest employer, spent like crazy, giving notoriously underpaid cops, soldiers, nurses and other government workers a raise in 2012. Salaries now consume 70% of Ghana's tax revenue. Ghana's economy slowed, and for three years, oil revenue has been coming in well below expectations.
Meanwhile a series of bloated government contracts involving both major political parties have come to define the boom years. A youth employment program spent $250 million in one year, without proof that any work actually got done. A development agency spent $15 million allegedly rearing guinea fowl and planting trees. The Ghana Revenue Authority paid a technology firm $23 million and got nothing in return. Meanwhile, at a major government ministry, I met a civil servant who has to bring printer paper into the office from home. Apparently, even local suppliers have stopped extending credit to the government.
Politicians seem detached from reality on the ground. There are claims that the Mahama administration, like previous governments, took so long to realize that the economy was tanking because economic statistics in Ghana are substandard bordering on fanciful—and that growth was always a statistical illusion to everyone but Ghana's elite. Last month, when President John Mahama tweeted about the Ghanaian people making sacrifices to get through the economic slump, the Twitter account of the US Embassy in Accra replied: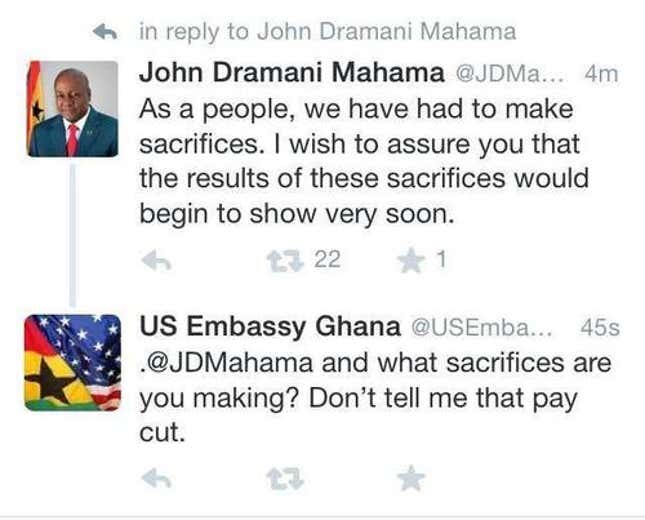 (The tweet was eventually removed and the Embassy apologized.)
For many Ghanaians, it's like the boom never happened. "We've become so charmed by our own practice of democracy, by what the rest of the world says," said Kwadwo Ohene Sarfoh. "We're being sold something that's not really happening."