Last week, America's biggest newspaper by total circulation, USA Today, was effectively discarded by its owner. News Corp, the owner of the second biggest (the Wall Street Journal) suffered another revenue decline. Today, the New York Times' media critic, David Carr, sounded the death knell for print newspapers, while viral content site Buzzfeed raised $50 million to accelerate its world domination through your Facebook newsfeed.
The trend is undeniable. Traditional newspapers and print publishers are struggling, while internet companies are flourishing. But it didn't have to be this way. The two sectors don't have to be at war, and the best evidence of that can be found in South Africa.
Earlier this year, I wrote about the astonishing transformation of the South African media company Naspers. The company, which owns more than 50 domestic newspaper titles, began nearly a century ago as the mouthpiece of South Africa's apartheid regime, but through some extremely clever (some might say lucky) investments, it has transformed itself into a genuine global digital media giant. It now owns one of Africa's biggest pay TV businesses, but more importantly, is the single biggest investor in the Chinese internet powerhouse Tencent. In 2001, Naspers paid just $34 million for a 46.5% stake in Tencent, which owns, among other properties, the highly successful WeChat messaging platform. Today its stake in the business is worth more than $50 billion.
Naspers was also (indirectly, through an investment in Russian internet company mail.ru) an early investor in Facebook. Other bets it has placed, in key emerging markets such as India and Brazil, have yet to pay off. But the lesson for legacy media companies (and any incumbent, in any industry) is still crystal clear. Transformation is possible, and diversification is wise.
As Sequoia Capital's Michael Moritz has pointed out, there is no reason why the New York Times  Company could not have achieved something similar to Naspers. Instead it spent billions actually increasing its exposure to print and on dubious investments in areas such real estate. (To be fair, both Rupert Murdoch's Fox and Time Warner built enormous film and television empires on the back of their print origins. But those legacy print businesses have now been spun out, and are no longer shielded by their wildly profitable corporate cousins.)
The success of Naspers does not guarantee the future of its newspapers (which, unlike its American corporate peers, the company still controls). But it does appear to have given the company a lot more flexibility in managing them. There is little pressure from the company's shareholder base to do anything too radical, because Naspers has been a mind-blowingly good investment—thanks to Tencent. The stock hit another high on Monday and is up by more than 3,000% over the past decade.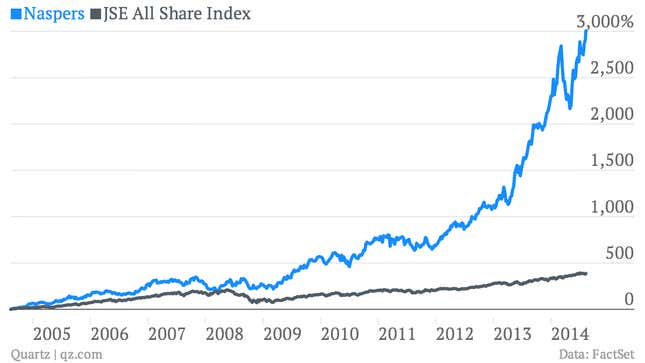 So if publishers really love newspapers and news reporting, rather than being pointlessly devoted (paywall) to "the smell of ink," they should prioritize the long-term financial health of of their companies.