Like News Corp and Time Warner before it, Gannett, the publisher of USA Today, announced plans today to separate its print businesses from its digital and broadcast operations.
The company explained that in doing so it would create "more targeted investment opportunities" for its shareholders. In other words, the fast growth of its digital operations might no longer be clouded by the ongoing decline of its publishing business, which is easily the company's biggest revenue contributor but not as profitable as the broadcast operations.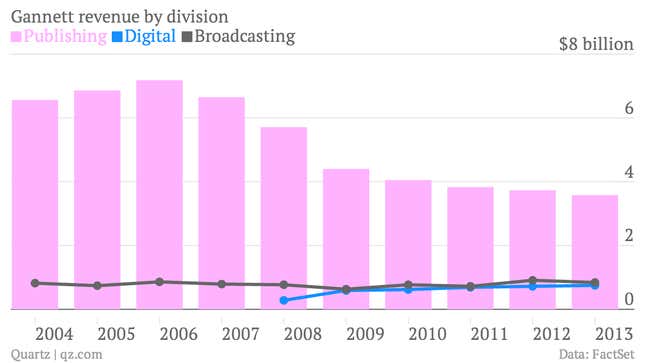 Also, separating the two businesses could also allow each company to pursue "value-enhancing acquisitions…with fewer regulatory obstacles," Gannett said. (The US currently limits the ability of companies to own both newspapers and television stations.)
Gannett's share price has been doing exceptionally well since in the depths of the last financial crisis. The separation is designed to unlock even more value for shareholders. Yet the experience of recent media companies that have done so is mixed. Both News Corp and its now separate 21st Century Fox have both lagged the market since their split in June last year. Time Warner and Time Inc. have both surged since their split, but that's arguably more a function of both companies being potential targets for acquisitions.