American companies want workers—they just aren't actually hiring them yet.
That's the conclusion one could draw from fresh readings out today for two gauges of labor demand.
One came from the US Bureau of Labor Statistics' reading of Job Openings and Labor Turnover, the so-called JOLTs report. It showed that US job openings have been at highs not seen since early 2001. Openings touched 4.67 million in June, up 2.1% from May.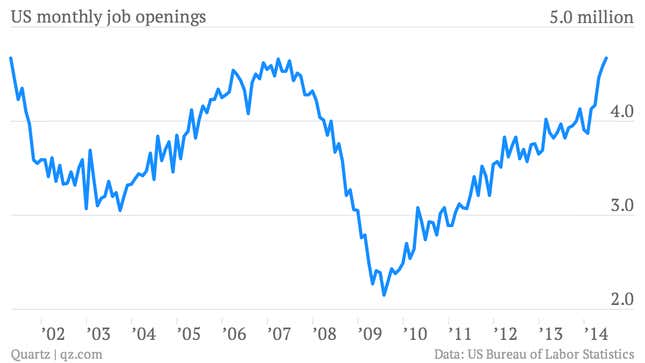 The job openings rate—the number job openings as a share of all employment as well as job openings—hit 3.3%, a new post-crisis high.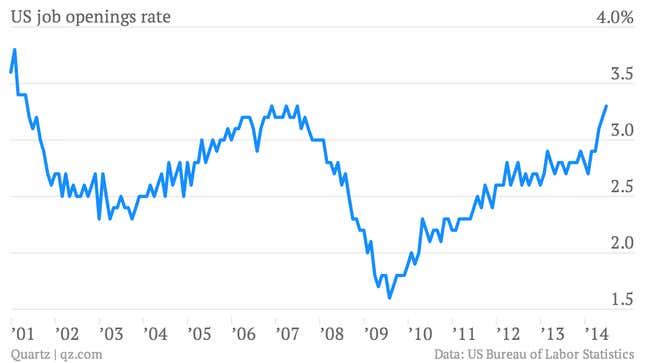 Meanwhile a gauge of small businesses' intentions to hire has also surged to a fresh post-crisis high, with 13% of respondents to a survey by the National Federation of Independent Business indicating their intentions to hire. That's the largest percentage since September 2007.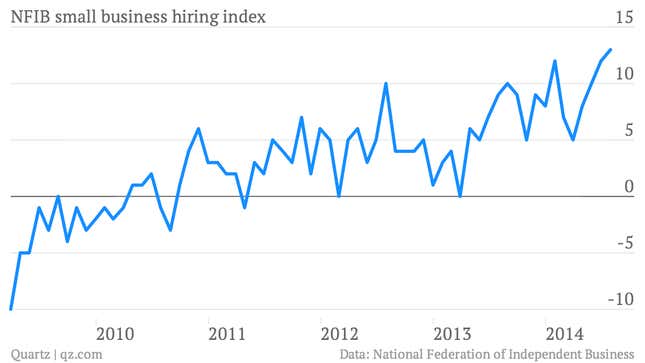 So if there are job openings, and business owners intend to hire, surely they're hiring, right? Well, not so fast.
The JOLTs hiring rate is nowhere near as buoyant as the job opening rates. The US hiring rate—hires as a share of total employment—hit 3.5% in June.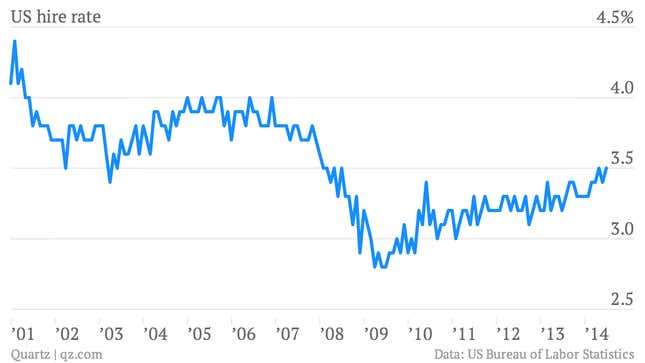 Logically you'd expect hiring plans to precede actual hiring. But Goldman Sachs analysts note that the hiring rate remains "fairly depressed by historical standards."
Where's the disconnect? Some posit that there's a skill mismatch between the jobs available and the capabilities of the workforce. Others argue that with so many applicants fighting for open positions, companies feel they can be choosy, and are taking their time sifting through candidates and making selections. Still others—usually conservatives—suggest the extension of unemployment benefits has made workers too comfy, and less willing to take jobs. Liberal economists dispute that.
In other words, it's not an easy question to answer and it's something of a political football—and in many ways it remains at the heart of the challenges faced by the US economy.