When Austrian singer Conchita Wurst won Europe's cult song contest Eurovision with her song Rise Like a Phoenix, many celebrated with her. She became a joyous symbol of acceptance, gay rights, authenticity.
But not everyone was happy that a bearded performer in drag would become the pop-song queen of Europe. A number of the malcontents were in Russia: even before the final took place, a petition was launched demanding that Russian television stations ban the broadcast of Eurovision, in which Russia was competing, to protest Wurst's involvement. Consistent with the government's stand on gay rights (or lack of thereof), several politicians considered the contest outcome a sign of the cultural differences between Western Europe and Russia. Eurovision's result, Russian deputy prime minister Dmitry Rogozin said, "showed supporters of European integration their European future—a bearded girl."
Others agreed, and successfully urged Russia to separate itself from such displays of inclusiveness.
But Moscow may have found a way to save the last song: by reviving the Intervision Song Contest, which between 1977 and 1981 served as the Soviet counterpart to Eurovision. (A previous iteration, the Sopot International Song Festival, dates back to 1961.)
Intervision used to be held in Poland, and had a peculiar voting system: since many citizens didn't own telephones, they would turn on the lights to vote for a song, and the volume of votes was calculated by observing the increase in power consumption.

(Who knows what the Party thought of those rock 'n' roll inspired tunes.)
Vladimir Putin first proposed an Intervision revival in 2009, to include Russia, China and Central Asian countries. The plan is finally going ahead this year, and the sixth Intervision song contest will happen in October in Sochi.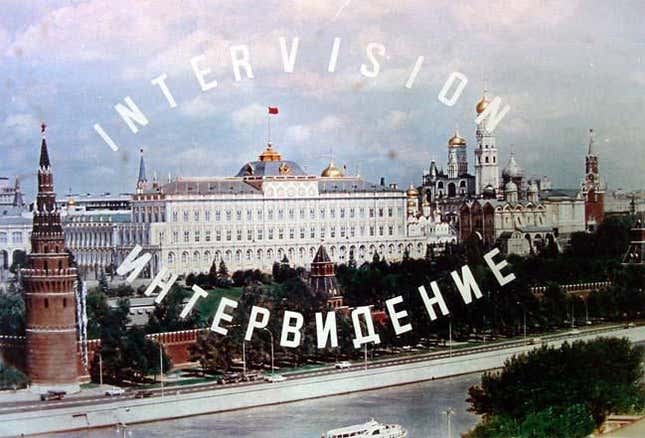 This seems to follow the trend by which Eurovision (and now Intervision) becomes a metaphor of European geopolitical affairs: let's not forget Russia's song for Eurovision 2014, Shine, included the (Ukraine crisis-evoking) line: "Living on the edge/Closer to the crime/Cross the line a step at a time." Meanwhile, Ukraine, which has not yet confirmed its participation in Intervision, was singing Tick Tock.