Ebola just killed its thousandth victim in West Africa. The US Centers for Disease Control and Protection has put its operations at the highest alert level, and the World Health Organization has labeled the disease an international public health emergency. The World Bank and the WHO have ponied up $200 million to fight the virus and the WHO has also endorsed the use of experimental drugs to combat Ebola, so desperate have times become.
But let's put this epidemic, the deadliest in the nearly 40-year history of Ebola, in perspective. Here's a chart based on data by Dalberg, a global development consulting company: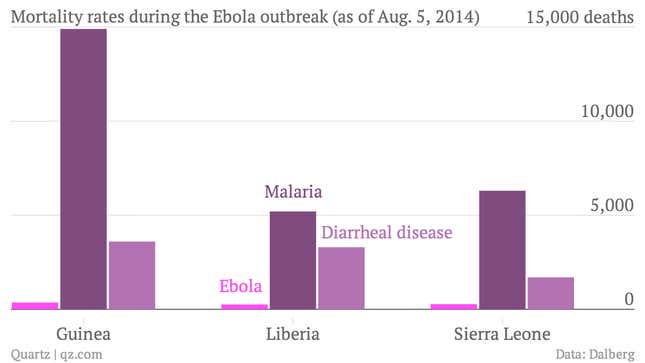 For many in the affected countries, Ebola is among the least of their health worries. In the eight months from when the so-called patient zero was first infected to Aug. 5, 2014, malaria has killed nearly 30 times as many people in Guinea, Sierra Leone, and Liberia. Each week, everyday diarrheal disease claims more lives than Ebola has in eight months.
These deaths from treatable diseases point to a deeper underlying problem, says Dr. Manpreet Singh, who works in Dalberg's Nairobi office.
"Health systems in West Africa are severely overstretched under normal conditions, let alone during a major outbreak like this," says Singh. "To put this into perspective: Massachusetts General Hospital has over 2,000 physicians, whereas at the most recent count, Liberia had only 261 doctors providing health care for the whole country."
It's not that these countries have been stinting on healthcare spending—or at least not Sierra Leone and Liberia, when measured as a percentage of gross domestic product.

​Though Sierra Leone and Liberia are evidently investing like crazy in healthcare infrastructure, those countries' long, bloody wars mean that both are starting from an exceptionally low base. While Liberia's per capita spending is $88, Sierra Leone's is $171. Guinea, meanwhile, spends just $67, according to Kaiser Health, and healthcare spending there is about 6% of GDP.
In other words, they can use all the help they can get to keep their people healthy. And that $200 million from the World Bank and WHO is a big boost for efforts to prevent more common—and therefore more lethal—illnesses, such as malaria, says Dalberg's Singh.
"[T]he investments needed to control Ebola include training new doctors and nurses, ensuring that medical supplies get to where they're needed, and improving diagnostic facilities," says Dalberg's Singh. "Building these basics is essential not only to reduce the impact of future potential outbreaks, but also to prevent and treat more common causes of death for years to come."