Cecilia Heyder is about to become an unlikely icon for the global medical marijuana movement.
In June, after months of pressure from pro-marijuana groups and a national public campaign, Chile's Institute for Public Health granted Heyder special permission to be treated with Sativex (nabiximols), a patented cannabinoid oromucosal mouth spray for multiple sclerosis patients, made by UK-based GW Pharmaceuticals. Heyder, a mother of two who suffers from both breast cancer and lupus, is likely the first ever patient to be legally prescribed medical marijuana in Latin America. That's important because how her body responds to the medication will likely influence how policymakers in Chile and in other countries throughout the region look at medical marijuana as a viable medical treatment.
In a CNN Chile interview (Spanish) last month, Heyder said the pain from living with the extremely rare combination of breast cancer and an autoimmune disease like Lupus was overwhelming. Marijuana, she says, saved her life.
"It doesn't help me 100% but it gives me a much higher quality of life,"  Heyder told CNN.
Heyder began smoking and consuming marijuana edibles last year on her doctor's recommendation, though consumption of marijuana of any kind is illegal in Chile. She needed a stronger cannabis-derived drug and her doctor prescribed Sativex.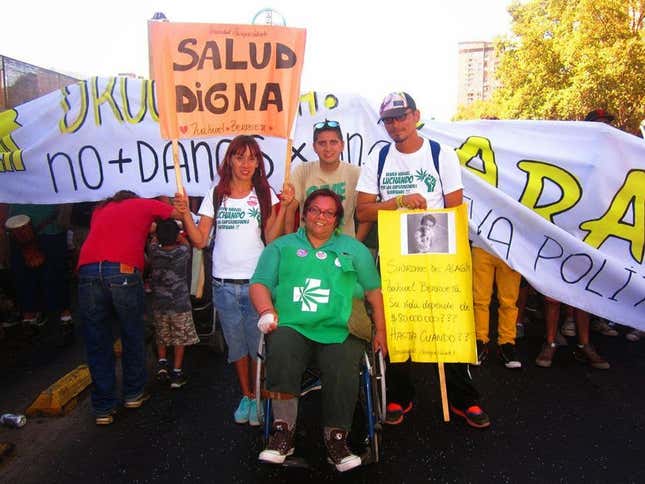 The problem: the sale of Sativex, which costs the equivalent of 3 million Chilean Pesos (roughly $5,200) per shipment—or of any cannabinoid—is prohibited in Chile. In June, after getting the approval of the British government for export, the health ministry said they would allow her (Spanish) to receive the drug in what they called an "exceptional case."
Heyder's story inspired Chile's center-right political party, Amplitud, to propose a bill in parliament that would decriminalize (Spanish) growing marijuana at home for both recreational and therapeutic uses. Other proposed legislation being debated would allow the public health system to import cannabinoids like Sativex to treat patients regularly.
Medical marijuana remains illegal in every Latin American country, but public sentiment across the region has dramatically changed in recent years. In Chile, polls show that 78% (Spanish) of people approve of marijuana for medical use. In Mexico, a government study showed that 73% approve (Spanish). In Uruguay, which last year became the world's first nation to legalize marijuana for recreational use, the health ministry announced in June that it would allow doctors to prescribe marijuana to patients to treat certain medical conditions. The conditions have not yet been specified.
Mason Tvert, communications director for the Marijuana Policy Project, which works on marijuana policy reform, says there's a unified regional push against the US's corrosive policies associated with its  War on Drugs—policies, Tvert says, have failed. In the US, where medical marijuana is now legal in 23 states and the District of Columbia, marijuana policy is quickly changing, and Latin American nations have taken notice.
" The US has dictated marijuana policy around the world for decades and other countries, especially in Latin America, are beginning to recognize that times are changing and they are rejecting these old policies en masse and adopting those that they believe are best," said Tvert. "She [Heyder] is the first but I'm sure you'll see a similar kind of movement spring up in the region [Latin America] and soon there will be many more like her."