Israel posted only modest GDP growth in the second quarter, even before the fighting Gaza got underway in earnest.
The economy grew at a 1.7% annualized pace in the second quarter, slowing from the 2.9% pace of growth in the first quarter. Exports tumbled nearly 18%, the sharpest decline since the worst of the global recession in late 2008 and early 2009. Israeli exporters have been complaining that the strength of the shekel over the last year has weighed on exports.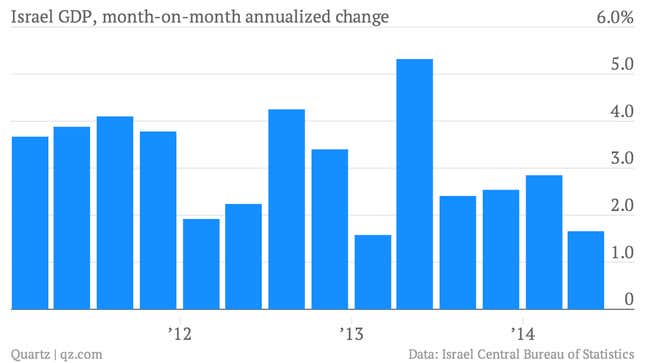 And given the situation in Gaza over the last month or so, tourism seems likely to be another drag on the economy in the coming months. Recently released numbers showed tourist arrivals plummeted 19% in July, on a seasonally adjusted basis.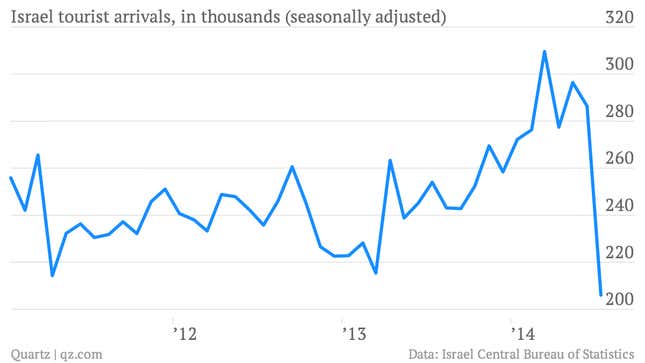 The backdrop is raising pressure on the Bank of Israel to do more to ease financial conditions and prop up growth. (Even after a surprise rate cut in July.)
But the bank has limited flexibility. Interest rates are already close to zero, which has fueled a worrisome housing frenzy. Further rate cuts risk exacerbating the problem.
The huge cost of housing in Israel has been blamed for gobbling up far too much of nation's household income. The result is weak consumption, which has also been an ongoing drag on growth. As it often seems in Israel, there are no easy answers.