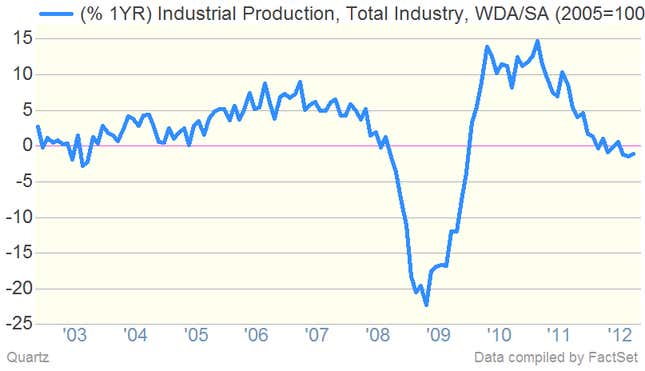 We've been commenting lately (in fact, ad nauseam) on the undeniable signs of slowdown in Germany. The euro area's economic powerhouse has so far been able to resist economic deterioration across Europe, and has been seen as a safe haven as countries like Portugal, Ireland, Italy, Greece, and Spain flounder. Regardless of Germany's capability to survive and generate growth in the long term, today we received confirmation that Germany has been pulled into the European death spiral:
The European Commission slashed projections for German GDP growth in 2013 to +0.8% from the +1.7% it had projected in May.
German industrial production fell 1.8% in September, far worse than analysts expected (-0.5%).
European Central Bank president Mario Draghi now believes that Germany is finally beginning to feel the effects of the crisis. "Germany has so far been largely insulated from some of the difficulties elsewhere in the euro area. But the latest data suggest that these developments are now starting to affect the German economy," he said in a speech today.
European markets all took a plunge on Draghi's comments. US markets have fallen too. It's unclear to what extent these fears are generated by Barack Obama's election victory, which reawakens businesses' concerns about the "fiscal cliff" and stricter financial regulation, and to what extent Europe is leading the charge. But it's clear that US markets have more than just their own domestic issues to watch out for.