Firearms manufacturers are trading higher after Barack Obama's reelection as US president. While the S&P 500 is down more than 2%, Smith and Wesson has jumped more than 10% today: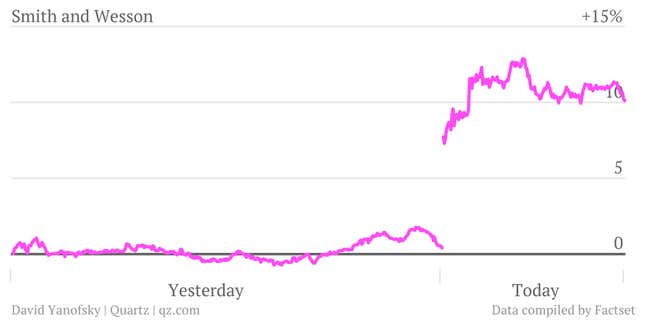 Sturm Ruger is up 6% and continues to climb:

Obama's first term was a boon for the US gun industry, as the Associated Press recently reported:
Sales are on the rise, so much that some manufacturers cannot make enough fast enough. Major gun company stock prices are up. The number of federally licensed, retail gun dealers is increasing for the first time in nearly 20 years. The U.S. gun lobby is bursting with cash and political clout. Washington has expressed little interest in passing new gun laws, despite renewed calls to do so after recent deadly shootings in Colorado and Wisconsin.
Smith and Wesson has doubled in market value since Obama took office, and Sturm Ruger has more than quadrupled. John Netto, President of M3 Capital, recently told Bloomberg TV, "Gunmakers are definitely the winners right now."
That's more likely why these gun manufacturers are seeing a post-election pop than another popularly cited cause: conservatives arming themselves ahead of a feared wave of new gun control measures. That was the premise of a Wall Street Journal article in September, and gun sales may well see a bounce following Obama's reelection, but gun stocks are probably rising for exactly the opposite reason: Obama has thus far been no threat to gun owners.