Couples that tie the knot with a big wedding have a better chance of finding marital bliss down the road, according to a new report from the National Marriage Project at the University of Virginia.
Beginning in 2007 and 2008, researchers followed 1,000 Americans ages 18 to 34 who were in a relationship but not married.  The researchers then analyzed the quality of the 418 marriages that occurred over the next five years.
The results? Couples with large weddings—defined as having 150 guests or more—experienced happy marriages 47% of the time. Couples whose weddings had fewer than 50 guests reported happy marriages just 31% of the time. (Researchers defined happy marriages as those in the top 40% based on survey results, although they admit this number is "somewhat arbitrary.")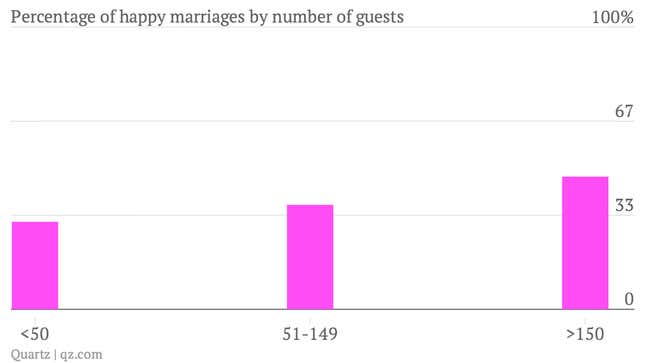 The discrepancy might be due to a witness factor. More guests means more people see a couple commit to one another, which could create a stronger incentive to maintain that commitment. The sociologist Paul Rosenblatt came up with this idea in the 1970s, although it may be outmoded today, with so many people witnessing the seemingly inevitable post-wedding flurry of photos on social media.
Researchers also hypothesized that the so-called "My Big Fat Greek Wedding" effect, named for the 2002 Nia Vardalos comedy about a bride grappling with her family's over-the-top involvement in her nuptials, could appear because a larger wedding indicates greater community support. "Couples with larger networks of friends and family may have more help, and encouragement, in navigating the challenges of married life," said National Marriage Project director W. Bradford Wilcox.