Large financial institutions such as Bank of America are increasingly loading up on bonds to fund themselves. As it stands now, banks globally have sold some $764 billion in bonds through Aug. 21–36% more than the $562 billion in bonds sold by this point last year.
That's the highest amount in bonds issued since 2009, when banks shopped a record $1.3 billion to investors for the full year. Here's a chart illustrating bond issuance by global banks by this date in recent years: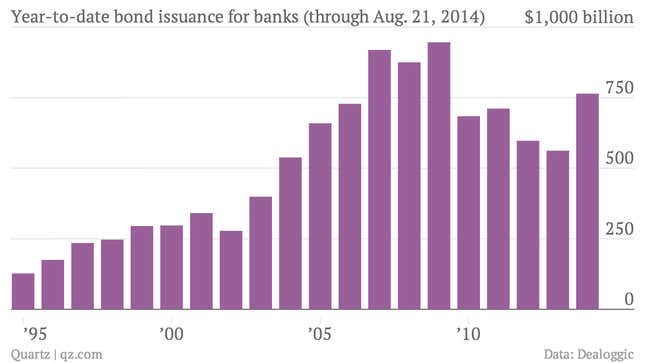 Case in point: BofA sold some $4.5 billion in bonds yesterday, on the heels of its landmark $16.7-billion settlement with the US Department of Justice. BofA has been one of the most active bank bond issuers this year.
What's fueling the surge? Eagerness for bonds with richer yields than average. Also, the general market perception that banks are too big to fail, and therefore safer, has made issuing bonds cheaper for banks.