Markets are not so much shrugging off bad news, as celebrating it.
With much of Europe mired in depression and disinflation that's teetering on the edge of outright deflation, the equity markets are ebullient. The Stoxx Europe 600 equity index was up 2.1%, one of the best gains in six months. Italy's FTSE MIB was up 2.2%. Spain's IBEX 35 was up 2.7%. The Germany's DAX rose 2.7% on a total return basis.
Likewise the Chinese industrial economy showed further signs of losing steam, and its housing market appears to be going completely off the rails. And the stock markets love it! The Shanghai Composite rose another 0.6% this week, stretching to its sixth-straight weekly increase. And in Brazil, where indicators show business investment drying up amid a broad-based economic slowdown, the Bovespa had a smashing week, rising 2.5%.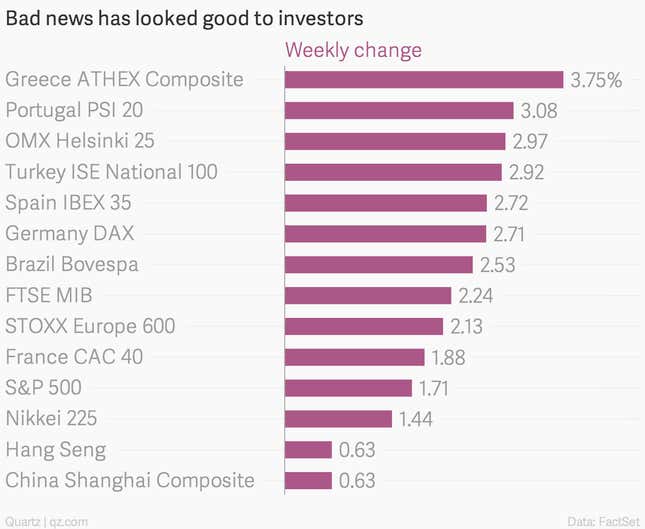 You don't have to be Warren Buffett to figure out what's going on here. Investors are betting that on governments coming to the economic rescue. And they're probably right.
Brazil already moved to loosen up lending conditions this week, a classic election-year move to goose growth. And at the European Central Bank, president Mario Draghi would likely face charges of monetary malpractice if he continued to do nothing as the continent slips into a deflationary vortex. Meanwhile, the behavior of industrial metal prices in the face of weak Chinese data suggests that investors expect another infrastructure push from the government on the mainland.
In recent history, such government efforts to support growth have had a salubrious effect on the prices of assets such as stocks. Investors are simply betting they can free-ride on the back of global government stimulus efforts for a bit longer.