Should the US proceed with airstrikes against the Islamic State (IS) in Syria, one of the first targets may be the outskirts of the northern town of Marea, a besieged crossroads for goods, men and material from Turkey.
IS has been attacking Marea for almost two weeks; if it conquers the town and those around it, the group would place rival, Western-backed rebels at risk of going out of business.
For orientation purposes, this strip of land with its two border crossings—Bab al-Hawa and Bab al-Salama—has been the staging ground for the three-year-old Syrian uprising, and Western military and intelligence agencies supporting anti-regime groups.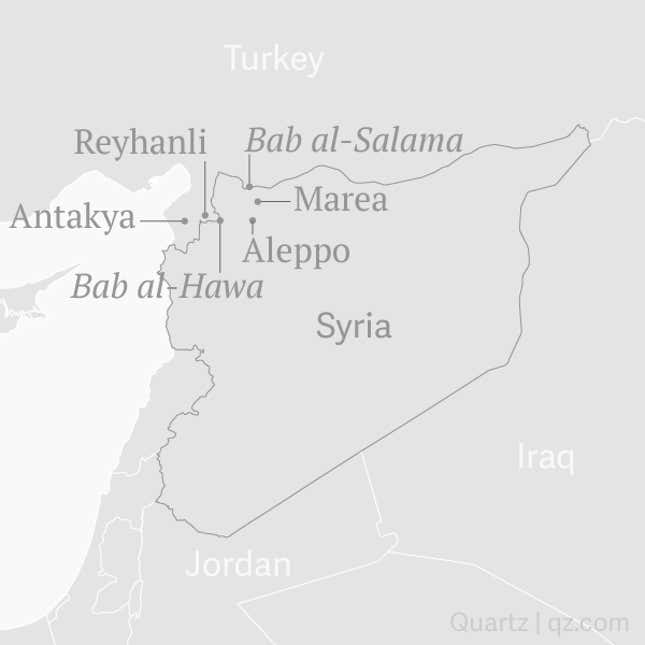 The area straddling the border is where American journalists James Foley and Peter Theo Curtis were abducted a month apart in 2012, and the route that New York Times writer Anthony Shadid took into Syria nine months before that. Shadid died of an allergy attack on the way back from Syria in February 2012, and Foley was executed by IS a week ago.
Reyhanli, a city on the Turkish side, hosts the "Military Operations Command," where the US, Qatar, Saudi Arabia, Turkey and the UAE coordinate support for the rebel Free Syrian Army. After you cross through Bab al-Hawa, the first biggish town you come to is Marea.
On Aug. 13, IS launched its assault against Marea and Azaz, a town closer to the border. The battle plays to the advantage of Syrian president Bashar al-Assad since it is occupying the attention of both IS and other rebel groups.
US surveillance of Syria have begun after US president Barack Obama gave his approval. The drone sweeps are likely to produce potential targets for airstrikes.
Marea would make an especially attractive target because—unlike an attack on Aleppo itself (paywall)—a strike against IS there arguably would not advantage Assad. On the contrary, it could hurt the regime since the Western-backed rebels, no longer having to defend Marea and the area around it, could concentrate on beating back the regime's offensive against Aleppo.