If you're getting married next year, you're probably already starting to think about it. Weddings have always been expensive, and at least in America, are getting more so. And although there is evidence that a big fat wedding may help you have a longer, better marriage, today's young adults may have serious trouble affording to celebrate their love with all the splendor and extravagance it deserves.
Luckily, thanks to the internet, there's another way.
The ring
Engagement rings are a large portion of a wedding budget. And though De Beers convinced everyone that diamonds are forever, they are not a particularly sound investment, nor a necessarily ethical one. Sites such as Have You Seen The Ring sell used—or as they're genteelly known these days, "pre-owned"—engagement rings for a fraction of their value.
This may not be for the superstitious, but let's be practical—you can't blame a failed marriage or engagement on the ring, can you?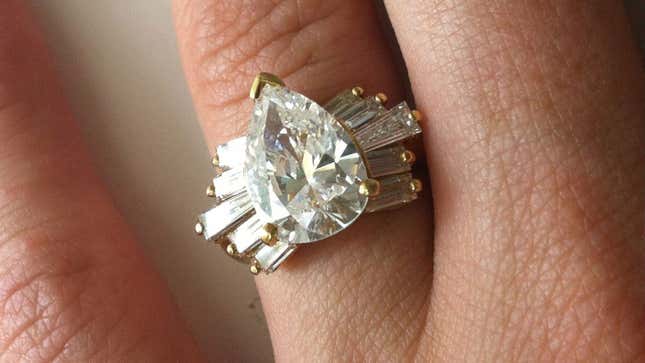 In any case, not all rings for sale denote a failed relationship. According to Leslie Johnson, the website's head of marketing, people sell their diamonds following a divorce, but also to finance education or health expenses, or when they inherit a jewel, or want to get a bigger diamond.
On average, rings on the site sell for about half their estimated retail value. Recently, a Tiffany's engagement ring that retails for $22,000 was sold for $12,000 and an heirloom diamond ring valued at $55,000 was bought for $24,000.
The wedding dress
Few items of clothing—in fact, few items of anything—are covered in as much myth as the wedding dress. A dress is said to be like true love: Once you've found the one, you know it. And just like true love, it's not easy to attain. What if you can't get it in a size that fits? Or the if one you want is out of your league? Moreover, unlike rings, wedding dresses are supposed to be kept but never worn again—quite impractical.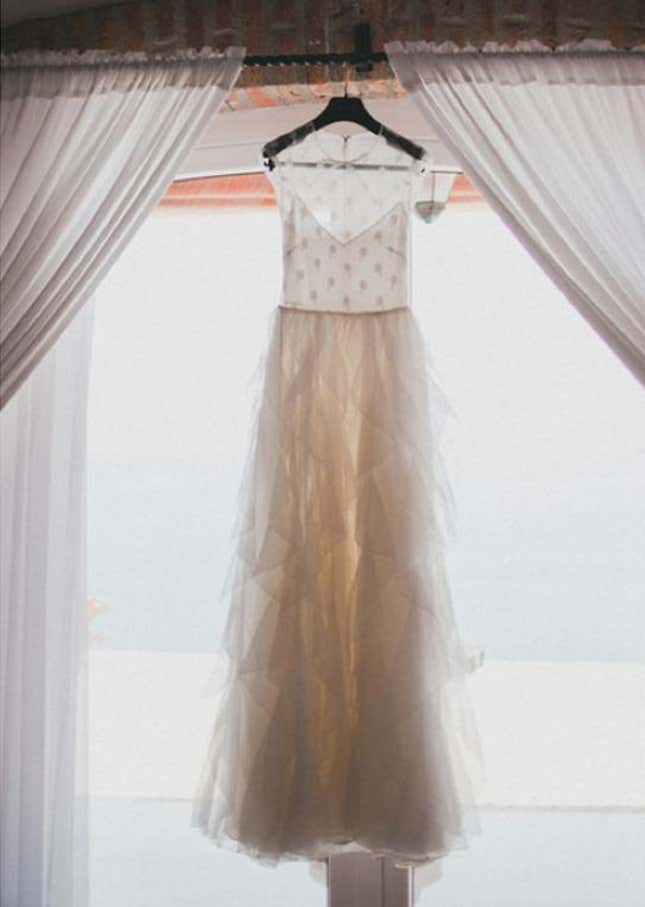 In 2004, Josie Daga wanted to sell her dress and couldn't find a way to do it. She unfruitfully tried everything from eBay to consignment stores before setting up her own marketplace, Pre-Owned Wedding Dresses. On the site, owners list their dresses for a $25 fee (there's no commission on the sale) and set their asking price. Discounts on the original purchase price vary from under 10% to over 80%, though they average about 50%.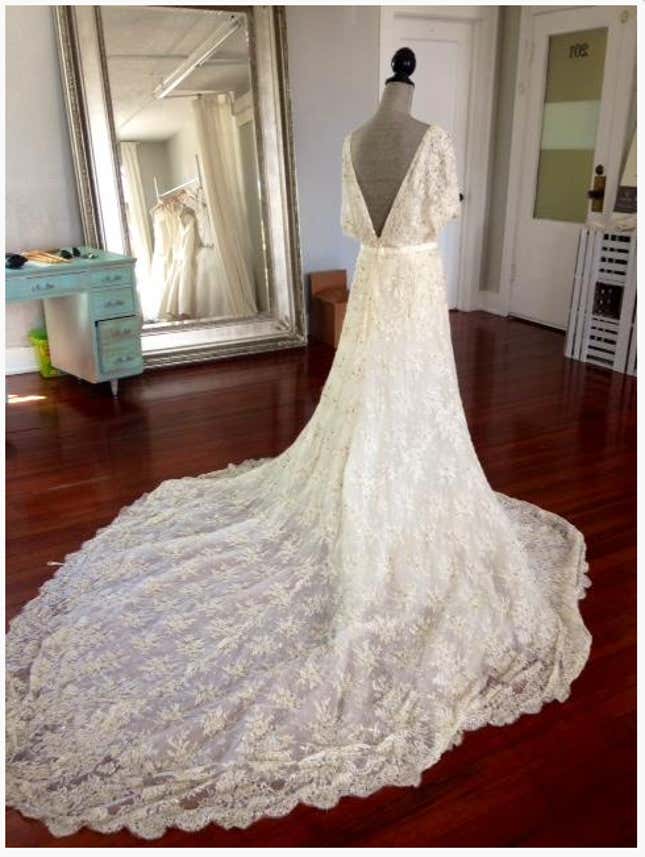 In 10 years the site has grown to have 25,000 active listings at any given moment. Daga says that about a third of those that are listed with detailed information, and reasonably priced, sell within weeks. It helps if the actual dress has been advertised in bridal magazines and the brand is well-known.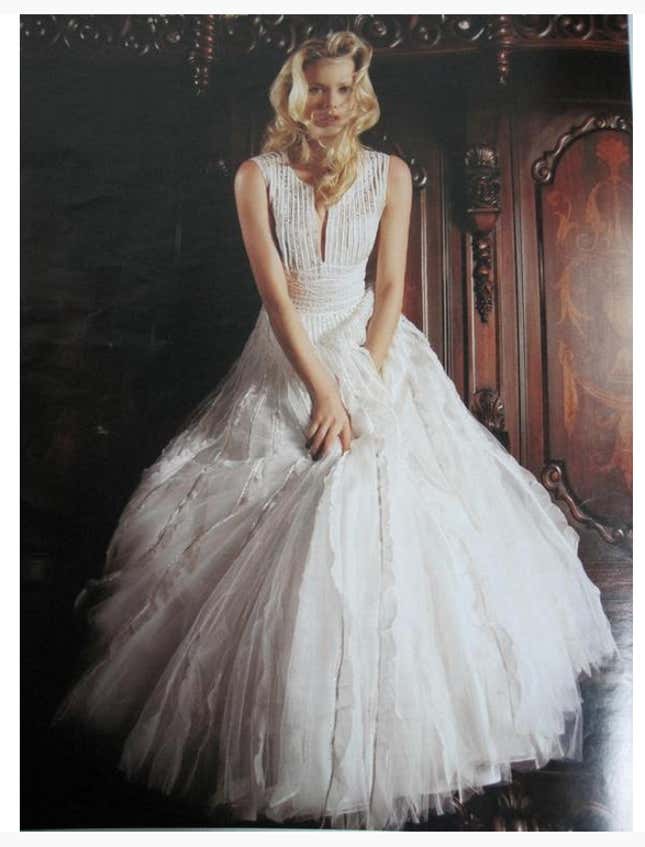 Daga says most people who sell a dress want to recover part of the cost of a very indulgent purchase (some of the sellers, she says, list the dress even before wearing it, to be sure to sell it right after their ceremony) and don't think they can hand it down to daughters or nieces. Some say they just want to share the joy with another woman, such as Mara, who listed her $4,200 Jim Hjelm dress for $2,100:
I know that I will never wear it again and I would love if someone had the opportunity to feel the way I did on my wedding day.
However, the motives for buying a pre-owned dress go well beyond savings. In some cases, the dress isn't available in a country (as in the case of the Monique Lhuillier gown that traveled 17,000 miles, from California to Sierra Leone to Australia), while in others, there may not be enough time for the fitting, as with the Baracci dress worn by Real Housewives of Atlanta's Kim Zolciak.
But savings are clearly a big concern. Although the site has seen listings up to $30,000 (for another Baracci, originally priced at $85,000, which Beyoncé wore in her Best Thing I Never Had video), the years of biggest growth for the portal were 2008 and 2009, the years of the US financial crisis, when the site's volume of transactions increased 120% each year.
Other sites, though with a smaller stock, compete with Daga's. One such is Nearly Newlywed, which launched in 2012. It's based on a consignment-store model; the site keeps 25% of the price paid for the dress. The dresses for sale cost up to $10,000, and some of them are gowns made famous by show business, such as one of the dresses worn by Sarah Jessica Parker as Carrie Bradshaw in her Sex and The City bridal photo shoot.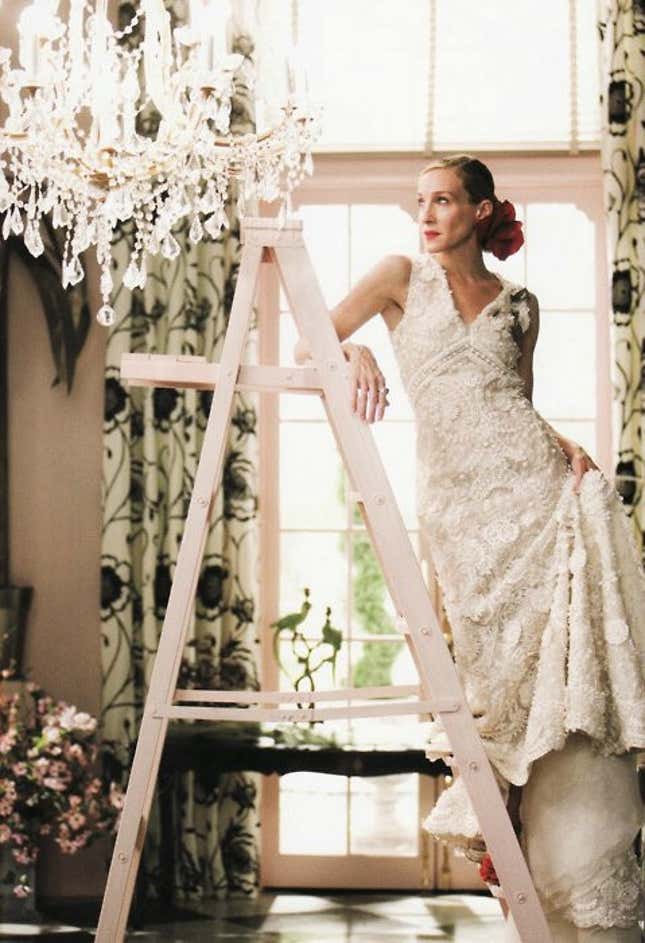 The bridesmaids' dresses
Silly, unflattering, cheap (they mustn't look better than the bride's), bridesmaid dresses are just a price to pay for the honor of a bride's friendship. Etiquette experts say that the bride chooses, the bridesmaid pays—no questions asked.
So the bride who wants to be sensitive to her bridesmaids' wallets could pick pre-owned dresses. And once the party is over, the bridesmaid could resell her dress again, if she feels like she'd never wear it again anyway.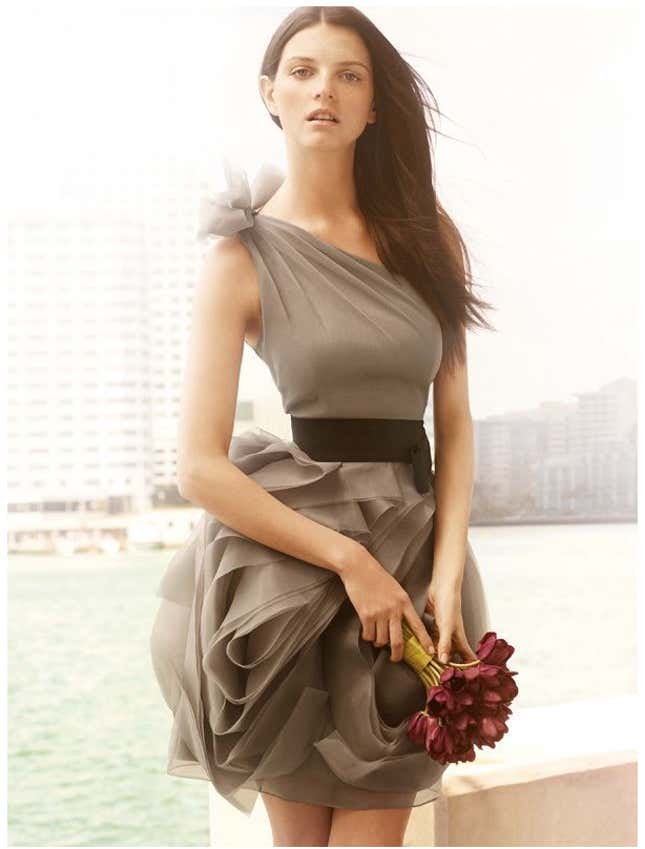 Many of the sites that sell second-hand wedding dresses also offer options for bridesmaids, and there even is a dedicated portal, Bridesmaid Trade, which features a variety of designers, styles, sizes, and colors—including white (which is a no-no) and black (also a no-no, regardless of what fashion columnists claim).
Since the bridal party's outfits tend to follow fashion cycles more than wedding gowns do, it isn't rare to find the same dresses new, on sale—sometimes at lower prices than the "pre-owned" ones.
The venue—and everything else
If you're already buying someone else's dresses and jewelry, why not buy their whole wedding? Engagements don't always end up in marriages, and sometimes it's too late to cancel reception venues, flower arrangements, photographers, and catering. The market and industry for pre-organized weddings even has a name: wedding brokerage.
One brokerage site, Canceled Weddings, reads:
As if heartbreak weren't enough, couples that have to call off their wedding also have to deal with the issue of informing all their guests that plans have changed, not to mention being saddled with the thousands of dollars and euro lost in catering and flower bills.
There's a certain poignance to the site's "last-minute offers" section. Who had to cancel their dream nuptials at Prague's Chateau Bon Repos? Who is no longer looking forward to a fun night of dancing with the Fabulous Feedback Band?
Smaller-scale bargains are also to be had at wedding communities such as Wedding Bee, where users trade (used or new) wedding decor, from tablecloths all the way to starfish-themed bathroom basket signs.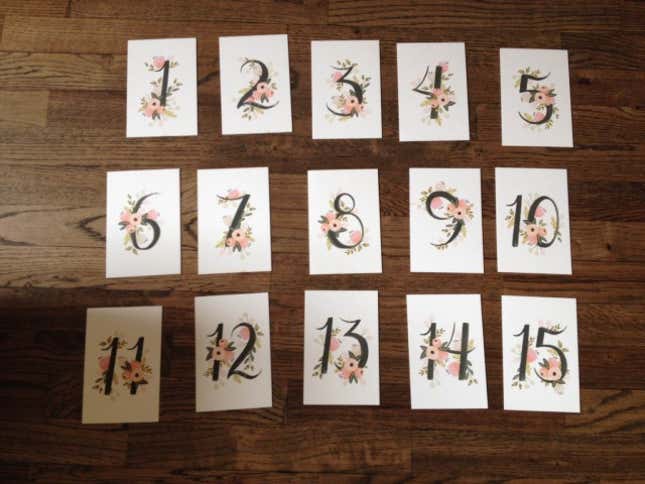 If it's decorations you're after, try marketplaces such as Smart Bride Boutique. The site is a marketplace for everything wedding, from gowns to jewelry, but the decoration section is pretty large and includes everything from table linens with only one previous owner (listed at $25, original price $50) to cake toppers with the couple's initials (which must be a bit like finding a boyfriend who already has your name tattooed on his arm).
And if you're looking to recoup a bit of the investment after your own wedding, pop over to Recycle Your Wedding, where people are offering anything from 50 ivory peacock feathers ($30) to a set of 72 tablecloth clips ($9), to 25 white umbrellas ($100, original price $150), bought in case of rain and never used. Just think of all the extras you can afford if you know you'll be able to pass them on later.