When shale gas companies in the United States hiked their production six-fold in the last six years, it brought untold prosperity to farmers living 21,000 km away in Rajasthan, the Indian desert state with poor economic and social indicators.
The source of that new prosperity was a processed powder called guar gum, which is used in fracking, a method of extracting shale gas that involves pumping pressurised gas into the ground. Guar gum is derived from a crop called guar. India is the world's largest producer of guar.
India is, thus, also the world leader in guar gum. Derivatives of guar gum are used in several industries, including textiles, pharmaceuticals, food processing and oil extraction. But it was because of shale gas that India's exports of guar gum shot up from Rs 121 crore ($20.2 million) in 2003-04 to Rs 21,287 crore ($3.5 billion at exchange rate of Rs60 to a dollar) in 2012-13, even occupying the top spot in India's agri-export basket in fiscal 2013.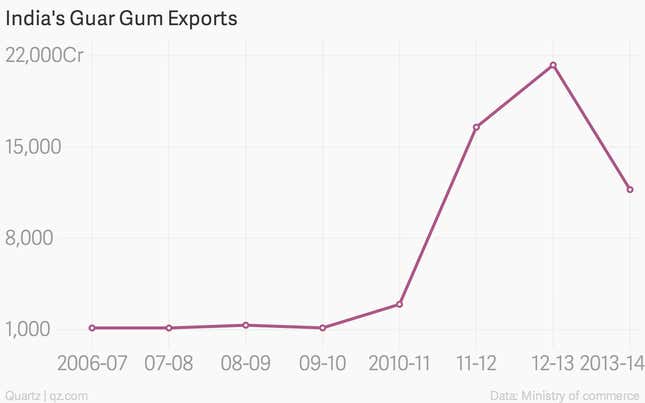 According to PK Hissaria, president of Indian Guar Gum Manufacturers Association, in the last three years, nearly 80% of Indian guar-gum exports were directed to shale-gas producers in the US. Guar-gum powder has unique binding, thickening and emulsifying qualities, which make it suitable for fracking.
The demand spike caused a 10-fold increase in price. From about Rs3,000 (around $50 at today's exchange rate) per 100 kg five years ago, the price of guar gum crossed Rs 30,000 (or $500) in 2012—a ten fold rise in five years.
The price increase helped once-impoverished farmers build homes, feed their children and fund lavish weddings. "There were visible signs of prosperity among farmers," adds Hissaria. "Farmers were able to clear their debts."
Ashok Gulati, former chairman of the Commission for Agricultural Costs and Prices (CACP), an Indian government entity that recommends the minimum price at which government can buy foodgrains from farmers, said farmers bought big-ticket items too . "I have heard stories of farmers with hordes of cash buying SUVs (sports utility vehicles) and luxury cars," he says. Manufacturers and traders of guar gum also reaped a windfall.
But in the last year or so, the situation has reversed. "When prices went up, shale-gas producers started looking for alternatives, and have found synthetic alternatives supplied from China," says Hissaria, who also owns a guar-gum production unit. In addition, oil producers have built inventory anticipating a further increase in prices in 2012, and this resulted in a drop in demand.
As a result, the price of guar gum has dropped sharply, and is presently at Rs5,500-Rs6,000 per 100 kg (around $90-100). Even at this price, it's competitive for Indian constituencies interested in guar gum, feels Gulati, but only just. "It will be competitive if prices ranges between Rs 5,000 and Rs 10,000," he adds.
For now, a re-balancing is under way. In the years that demand was rising, existing companies increased processing capacity and new entrepreneurs set up plants in the hope that demand from the shale gas industry would endure. According to data from Hissaria, industry capacity increased from around 600,000 MT (metric tonnes) in 2008-09 to around 1.3 million MT in 2013-14.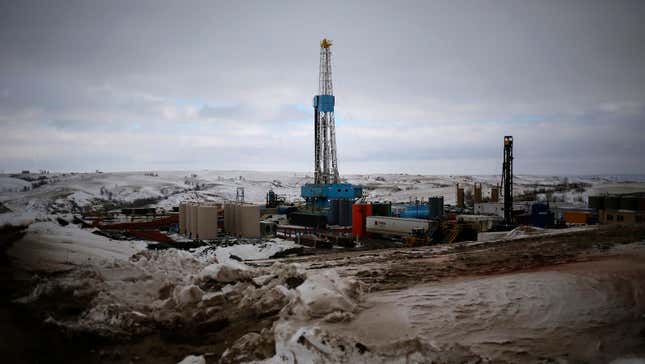 But in 2013-14, he says, India exported only 602,000 MT. "Many companies are operating at 30% of production capacity, resulting in wafer-thin profit margins," says Hissaria. They would like to increase capacity utilization—and increase profits and margins.
Exports did pick up in 2013-14. In value terms, between 2012-13 and 2013-14, India's guar-gum exports shrank 45% to Rs11,734 crore. But this decline was entirely on account of price. Data from the ministry of agricultural shows that export volumes increased 48% during this period, indicating renewed demand from oil-drilling industries.
Meanwhile, farmers growing guar—mainly in the states of Rajasthan, Gujarat and Haryana—are still better off. They produce a total of 13 MT of guar crop a year, and the doubling of the price bar of guar gum in five years has pulled them out of a debt trap and lifted their lifestyle. All because of the shale gas boom in the US.