Last week, the Los Angeles Times published the earth-shattering revelation that Hello Kitty, flagship character for the Japanese kawaii (cuteness) mogul Sanrio, is not a cat but rather "a little girl." Or so stated a Sanrio rep, who presumably would know.
The revelation blew up my Twitter and Facebook feeds, which had about 10 times more posts about Kittygate than about the fact that, at that very moment, Russia was invading the Ukraine. It was a bigger shock than the Game of Thrones' Red Wedding.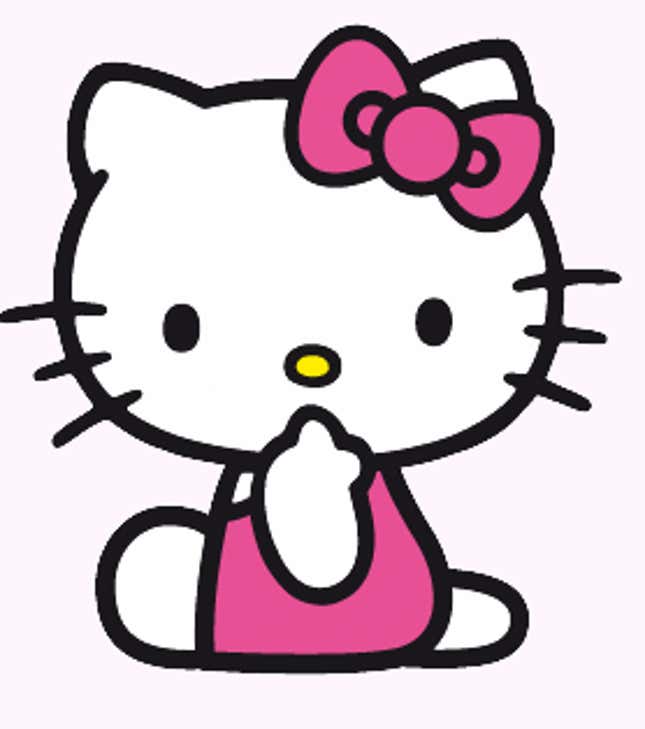 Apparently, Hello Kitty's humanness was hidden in plain sight. Because her whole back story is publicly available on the official Sanrio corporate site. She is, according to Sanrio, a girl named Kitty White living in "the suburbs of London" with her parents Mary and George White, twin sister Mimmy, and her cat (a quadruped, actual cat, unlike the White family) named Charmmy Kitty and a hamster given to her by her friend Daniel. Sanrio says of Daniel:" He's sensitive, naive and loves to dance." Elsewhere, he is rumored to be gay.
I contacted Christine Yano, the anthropology professor who broke the news for the LA Times. She is the author of Pink Globalization: Hello Kitty's Trek Across the Pacific. I asked her whether she believed Sanrio.
"I do," says Yano. "But before you question whether you believe them or not, you have to take it within a really Japanese context." And in this instance, a Japanese context means Anglophilia.
Hello Kitty was first introduced in 1974. And at the time, says Yano, London was a magical place for the Japanese. "There was a fantasy space of London, England especially as a place of storybooks. To create a character with the storybook life—she lives outside of London, twin sister, apple pie, cookies, playing the piano, that's the stuff a dreams for a 1970s girl in Japan."
And as for Kitty's quiddity? Yano said, "Is she a cat, is she a girl, in Japanese terms, I really feel, it doesn't matter. What I think is that Hello Kitty becomes a prompt for the imagination."
I agree with Yano, but that's the part that worries me. If Hello Kitty is whatever we want her to be, ie some kind of Rorschach test for the psyche of her beholder, then I don't know what it says about me that I think there is something very fishy about the whole Hello Kitty back story.
The official Sanrio description of Hello Kitty's life contains some alarming information:
"Blood type: A." In a spectacular oversight, Sanrio does not disclose whether it is A-positive or A-negative. Oh no, Kitty! (I looked into it for you, and there are two blood types your body will accept whether it's A+ or A-. If Hello Kitty is in an auto collision in London and requires a transfusion, let's hope she isn't screwed.)
The site further claims: "Hello Kitty loves to bake and she can make really delicious cookies. She learned her baking talents from her mama, who makes scrumptious apple pies that are enjoyed by the whole family."  Her "hobbies" section claims she "enjoys making pancakes."
No, no, no.
Hello Kitty does not make cookies because Londoners do not make cookies.  In the UK, these would be called "biscuits." As for pancakes, Brits do not eat pancakes. Unless Kitty is moonlighting as a sous-chef at this American diner in London, this defies credulity.
Hello Kitty, you are not what you claim to be. Kitty, what's your game? I have several plausible theories as to her true provenance (it is with great restraint that I avoid the possibility of interspecies mating):
Origin of Species: Hello Kitty is like Caesar from Planet of the Apes; a regular cat made highly intelligent and biped via an experimental Alzheimer's drug.
The White family is in some kind of witness protection program. This would explain why a so-called British family is faffing about with apple pies, cookies, and pancakes. They might have to pass as English in their new identity as the "White family."
The Whites are like a family from a Henry James novel, living in that liminal chasm between America and Europe. Just as they are living in the liminal chasm between human and cat. So much liminality for one family.
Sanrio is the world's undisputed thought leader in "kawaii," which is basically the Japanese word for "squee." The Japanese, through some kind of cartoon phrenology and the design equivalent of genetic engineering (also known as "drawing") arrived at an image that is the Platonic ideal of cuteness. And Hello Kitty is the brand ambassador for Sanrio. So it's a bit shocking that it took the world so long to identify what she was. There's more cult crit to be done here.
To paraphrase Nabokov: Hello, hello, hello Kitty. My sin, my soul.