Rarely has a government's first 100 days in power been scrutinized as much as Narendra Modi's.
But after an election campaign where Modi and the BJP promised an economic revival that the previous UPA government struggled to achieve, such close examination isn't entirely unexpected either.
These 9 charts will help you decipher whether the so called 'acche din'—the good days—have actually arrived, or not.
GDP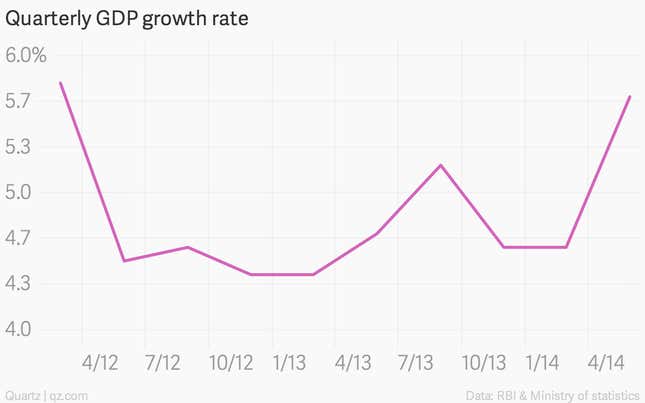 Four factors influence GDP growth—private consumption, government spending, corporate investment and net exports.
Traditionally, India imports more than it exports, so that value is always negative. Effectively, for the Indian economy, the remaining three factors play a role. In the quarter ended June 2014, growth was propelled by higher government spending and corporate investment, but private consumption was still subdued.
Increasing investment, too, is a good sign if it could be sustained, but the key is revival of domestic consumption, which accounts for more than half of India's GDP.
Both, the government and the opposition, have claimed responsibility for improving GDP numbers. While former finance minister P Chidambaram held that the UPA was "legitimately entitled to take credit for the revival of the economy", the ruling BJP believes that this is a consequence of policies enacted during its first three months in power.
Inflation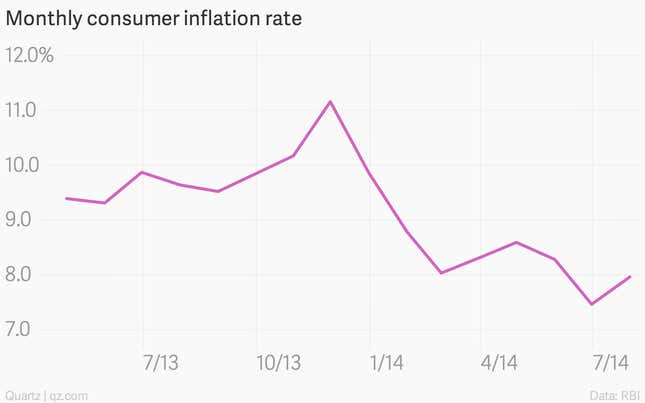 Some attribute sustained double-digit inflation as a key reason for the previous UPA government's defeat at May 2014 elections. Expectedly, Raghuram Rajan, governor of the Reserve Bank of India, has kept inflation management as one of key monetary objective, wanting to rein consumer inflation at 8%.
For the first time since April 2012, consumer inflation was below 8% in June and July 2014. And sustained inflation at 8% and below will allow RBI to reduce interest rate, which could spur investment and consumption.
But for this to happen, monsoon rains would have to be watched closely as they are linked with agricultural production and prices.
Interest rates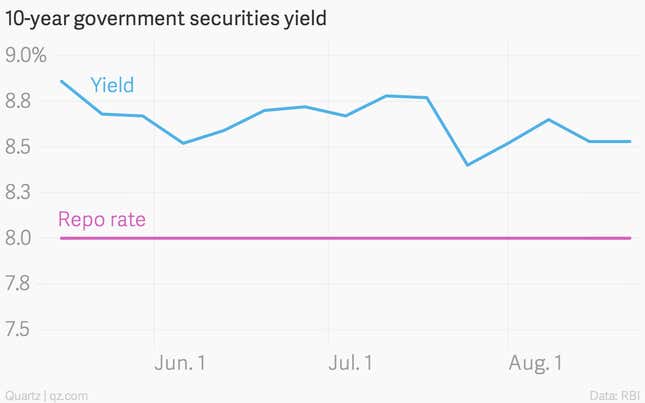 If there was one constant, it was that the central bank's benchmark repo rate —the rate at which the RBI lends money to commercial banks—was kept at 8%.
However, the yield on the benchmark 10-year government securities came down to 8.53% in August 22, compared to 8.86% when Modi government took oath.
Current account deficit
This keeps account of India's external transactions, and has two components: merchandise and invisibles. Merchandise is physical export and import of goods, whereas invisibles is related to services export like software and tourism earnings.
If oil prices go up, it would result in higher merchandise deficit as imports will increase. Or, if export markets shrink as happened after the 2008 global financial crisis, then India's export will drop, leading to a widening of the deficit.
This deficit reached an alarming $22 billion in April-June last year, but has come down drastically thanks to reduction in global oil prices and improvement in India's export performance. Measures taken by the previous government to curb gold imports also had a significant impact on reducing the current account deficit.
FDI and FII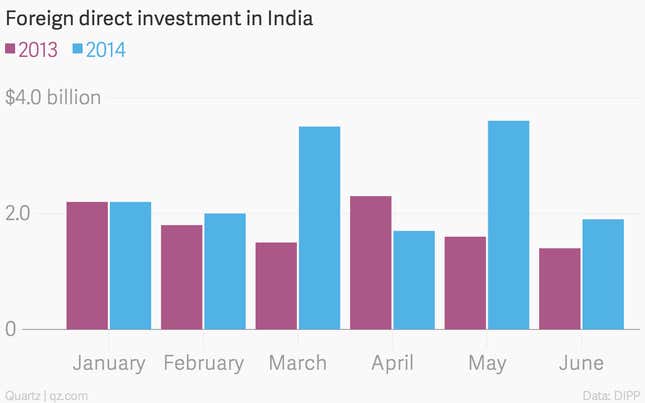 Foreign Direct Investment (FDI), the long term capital, is yet to pick up but foreign portfolio investment is moving in the right direction.
In three months (May – July 2014), foreign investors poured more than Rs 1 lakh crore ($16.53 billion) net investment in the Indian market, both equity and debt.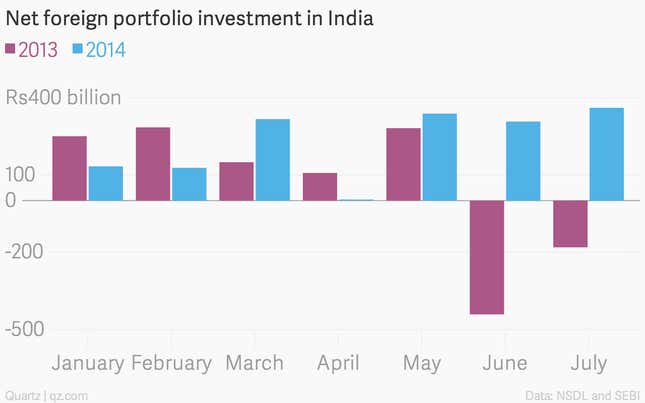 Subsidies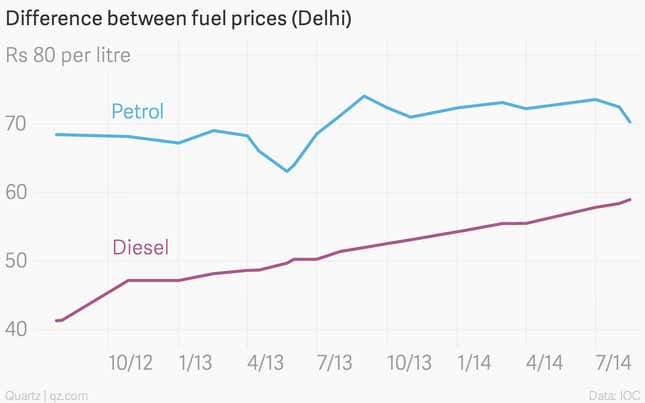 After the latest round of price increase, subsidy on retail diesel sales has dropped to 8 paisa—a major achievement to control the spiralling subsidy burden.
So far, the Modi government has continued the UPA's successful policy of increasing diesel prices by 50 paisa every month, thereby muting the opposition. But its longer term strategy with subsidies, which is estimated at more than Rs 2.5 lakh crore ($41.32 billion) this fiscal, will be keenly watched.
Tax collections

Corporate tax collections were 16% higher in May-July this year, and it was mainly driven by higher service tax collections. But excise duty receipts, a proxy to measure manufacturing, was down 2% in these three months.
Parliament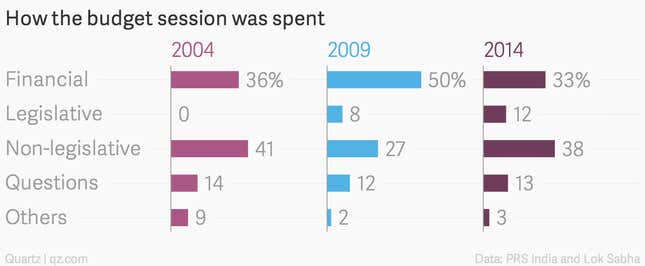 PRS India analysis shows that the recently concluded budget session spent more time on legislation compared to the previous two budget sessions in 2004 and 2009. In all, six bills were passed by the Lok Sabha.