Israel has moved again to use its natural gas bonanza to strengthen frayed relationships with its neighbors, and not to help Europe ease its energy reliance on Russia. In a deal midwifed by Washington, Israel will sell an estimated $15 billion in natural gas to Jordan over the next 15 years.
The agreement is, for now, a non-binding letter of intent signed by the partners developing Leviathan, a giant natural gas field in the eastern Mediterranean Sea. Noble Energy, a Houston-based company, and Israel's Delek say they expect to sign the final agreement by the end of the year. Jordan needs the gas because in 2011, saboteurs in the Sinai Desert kept blowing up a pipeline that delivered Egyptian gas to Jordan.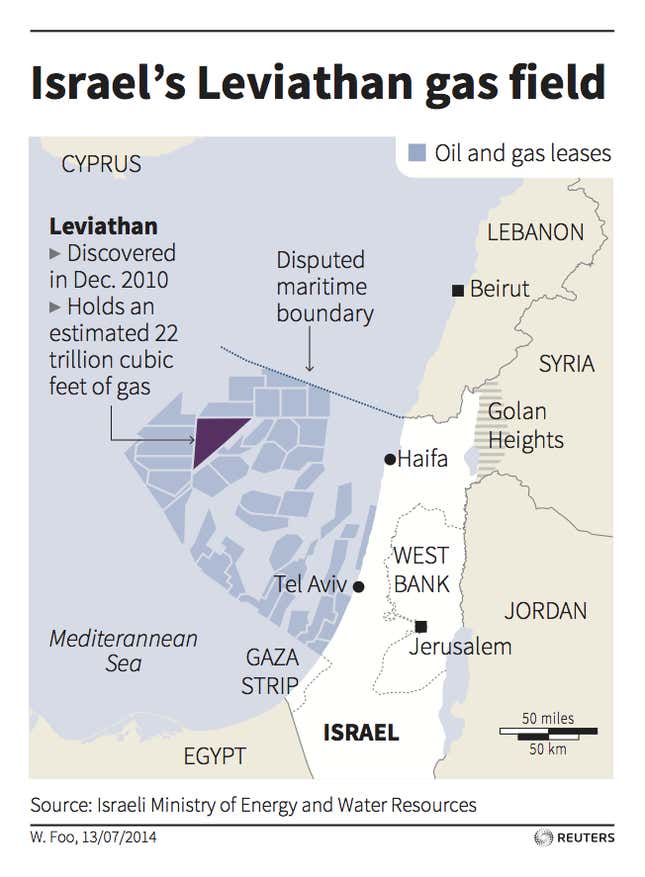 It's at least the fourth natural gas deal between Israel and its neighbors in recent months. Until these agreements, Israel's surprising wealth of natural gas—the Tamar and Leviathan fields, together containing the gas equivalent of about 4 billion barrels of oil—was planned for transportation by pipeline or tanker to Europe through Turkey, which could have helped in the current European standoff against Russia. But Israel's relations with Turkey have deteriorated, putting that plan on the back burner, at least for now. Instead, they will go in large part to Jordan, Egypt and the Palestinian Authority.
The State Department has been a middleman (paywall) in striking the deal, the Financial Times reported. The strategy appears to be to start to smooth out relations roiled by worsening Israeli-Palestinian relations. Amos Hochstein, the US's international coordinator for energy, attended the signing ceremony today in Jordan:
Europe has not been entirely forgotten. In June, the Leviathan partners agreed to sell $30 billion of gas to BG for use in its refinery in Idku, Egypt. That gas will be exported in the form of liquefied natural gas (LNG), and thus could go in part or entirely to Europe, depending on what deals BG strikes.