Rdio, a niche streaming-music service, doesn't get the attention it deserves. It is perhaps best known for its design, and today that got a major refresh.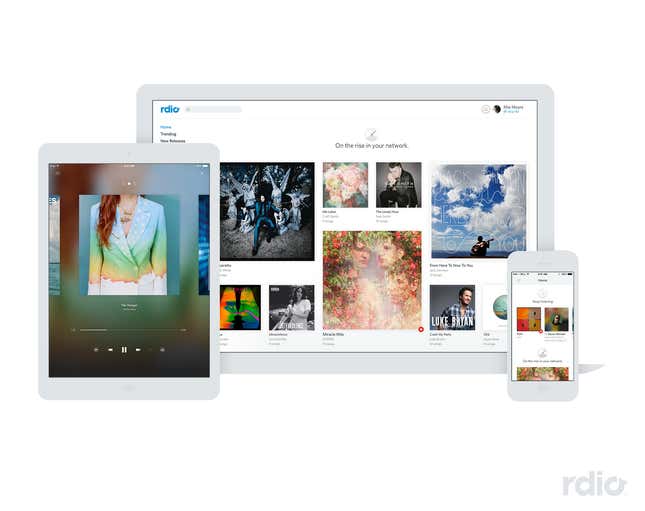 This is part of Rdio's attempt to  finally break into the mainstream, by more directly challenging the biggest online streaming-audio service out there: Pandora.
Rdio is already competing with Spotify in "on-demand" streaming (where you can choose individual songs and play them back). The company hasn't disclosed its user base, but its relatively new CEO,  said back in February that it's "not as big as we'd like to be" and it's safe to assume it's well short of Spotify's 10 million paying customers
The update brings Rdio's Pandora-like, free, ad-supported, radio product (which has actually been live in the US since January) to the forefront of its user experience. It forms part of a plan to position Rdio as a sort of Pandora–Spotify hybrid, offering both a passive internet radio listening experience, and, for those who want to pay for it, on-demand streaming.
Rdio's internal research found that most streaming-music users are going to different services for different types of listening. "Listening to these services is an investment in your time, as you listen, the service starts to learn more about you and make better recommendations," Rdio's head of product, Chris Becherer, tells Quartz. "But if you are bifurcating that investment over multiple services—half with Pandora, half with Spotify—you are really cheating yourself out of getting the most out of any particular service."
There is a new home screen, a kind of Twitter feed that generates stations based on a user's preferences, activity of friends, tastemakers and Rdio experts. Previously, when an a user logged into Rdio, the landing page simply showed which albums other people were listening to. (Earlier this year, Rdio dropped the external company that powered its recommendation tool when it was bought by Spotify.) Other features include the ability to "favorite" content, and to see what is trending across the service.
As Pandora has shown, free internet radio can be a viable business in its own right. (And broadcast radio giant Cumulus Media, which owns a stake in Rdio, will be selling the new product to US advertisers.) But Rdio is also hoping to convert some listeners to its stations into paying users.
It remains to be seen how the new look and feel go down with existing users, and new ones. As I have written previously, the streaming-music market is extremely crowded with Spotify, Pandora and the true titans of the tech world all jostling for supremacy. Rdio seems to think it can still stand out. "What we are hoping  is that people don't need to go to Pandora for half the day and Spotfiy for half the day, but come to Rdio for the whole day," Becherer says.