Brazil is leaking: In 2012, 1.5% of its gross domestic product—equal to $34 billion—slipped out of the country, never to return.
Since 1960, $401 billion have left the country, on average about $7.5 billion a year resulting from "crime, corruption and tax evasion." Recent growth in Brazil's economy has met with commensurate increases in the amount of capital slipping out of the country, according to a new report from Global Financial Integrity, an NGO dedicated to aiding economic development by preventing corruption. While broad capital flight has typically been associated with economic crises, like the 1998 collapse of its exchange rate system or the global financial crisis, an increasing amount is driven by capital GFI considers "illicit":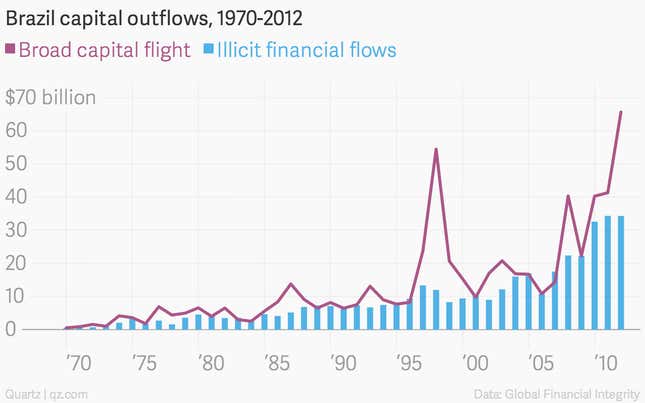 How is this happening? Mostly thanks to what's called "trade mis-invoicing," which is when companies submit false reports to the government about their trade deals. Most common in Brazil is "export under-invoicing", when a Brazilian company might export a $5 million consignment of a given commodity abroad, report the value to Brazil's government as $2 million, and strike a deal with the foreign importer to send the remaining $3 million to a shell company in another country, often a tax haven. It doesn't help that commodities exports are a major driver of the country's economy.
That robs the country's government of whatever profits might be taxed. But the losses don't stop there: Economists like Dev Kar, the lead author the study, say mispricing also robs the country of that capital's reinvestment, while also reducing Brazil's foreign reserves. The "profits shipped abroad," in Kar's words, can only be found by comparing Brazilian export data with what other countries say they paid, and measuring the discrepancy—one way big data is changing the way the world fights financial crime.
The news of these outflows won't sit well in Brazil, where massive public expenditures on the infrastructure for global sports events like last summer's World Cup and the 2018 Olympic Games have motivated social unrest around economic inequality and a lack of investment in the country's poorest citizens ahead of this fall's elections. The good news is that Brazil is begun implementing policies designed to crack down on illicit flows, including new requirements on pricing transparency. But the country lags behind on measures like corporate secrecy, effective customs enforcement and corporate accountability, all of which will be needed to halt capital seepage.