Alibaba's September 19 IPO is expected to raise about $21 billion for the company, make thousands of employees very wealthy, earn a small fortune for the six banks and numerous law firms who advised on the deal, and—bullish supporters say—ensure investors fat returns from China's unstoppable love of online shopping.
But who could lose out in the weeks and months after the company goes public?
Yahoo
Yahoo is expected to sell 140 million shares of its 22.4% stake in Alibaba during the IPO, raising nearly $6 billion, and hold on to the rest of its stake as long as it can, making the company, on paper, one of the biggest upfront winners. But shareholders have started to wonder whether it might not make sense to sell Yahoo altogether and invest the proceeds in the Alibaba IPO, since that's the most attractive part of Yahoo's holdings right now anyway. Or maybe dump Yahoo soon after it gets a bump from Alibaba's IPO, because tracking stocks often drop in value after their key investments go public.
Publicly-traded Chinese internet companies
Ahead of the Alibaba IPO, Chinese internet stocks remained strong, at least as judged by an index that tracks Chinese internet companies listed overseas—despite worries that Alibaba's public offering could suck up much of the capital in the sector.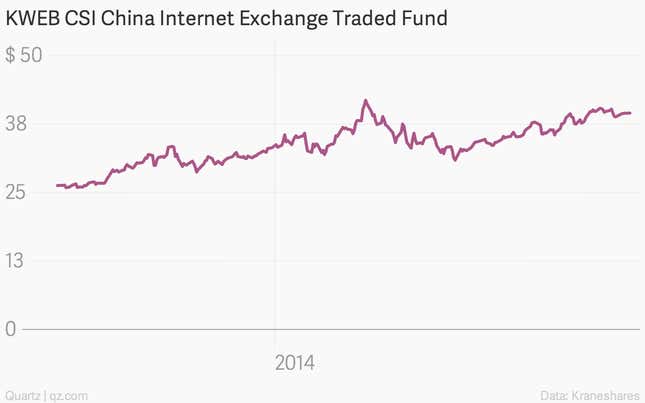 But this strength maybe somewhat misleading. Alibaba is expected to be included in the index shortly after its IPO, and even before it goes public its financial results have been moving the lightly-traded index. Already Chinese tech companies have raised more in IPOs this year than they did in any of the past eight, and another wave of Chinese internet companies is preparing to go public after Alibaba.
Amazon
Finding an area where Amazon and Alibaba really go head to head right now is tough (check out consumer shopping in Malaysia). And Alibaba vice chairman Joe Tsai explained late last year that post-IPO, Alibaba will concentrate its international efforts on selling products from Chinese manufacturers to Chinese-Americans, and US company goods to the Chinese. But in the company's newly-released road show presentation, Tsai says bringing Chinese goods directly to any and all consumers and businesses overseas is a key goal. The competition might not be immediate, but it is going to be stiff.
Tencent
Alibaba's biggest rival may be unseated from its perch as Asia's largest internet company by market cap after the IPO. The capital Alibaba raises could be used to increase its smartphone footprint, where it lags WeChat-owner Tencent, and bolster areas where they compete, like China's fledgling online healthcare market.
Mom and pop wholesalers
The quotidian world of B2B commerce is worth trillions of dollars annually, yet in much of the western world it is dominated by relatively small firms doing business via paper invoices, faxes, and checks. As Fortune reported this week, that represents a massive opportunity for Alibaba to break out of mainland China and start acquiring market share. It's not a slam dunk—Amazon has been quietly running a beta site called AmazonSupply for the last two years.