It's not uncommon for women to experience anxiety and depression after discovering that they are infertile. However, a new study (pdf) from the European Society of Human Reproduction and Embryology found that, more than a decade after unsuccessful fertility treatment, women who have trouble accepting that they cannot have children have worse long-term mental health than those whose who have made peace with their infertility.
Researchers led by Dr. Sofia Gameiro, a lecturer at Cardiff University's School of Psychology, analyzed answers to questionnaires by more than 7,000 women aged 28 to 62 in the Netherlands about their background information, infertility diagnosis, desire for a child, treatment history, parenthood status, and mental health. They found that a women's ability to reconcile her unfulfilled wish for children is the greatest factor in determining mental illness.
Most women in the study had accepted their failed fertility treatment, but the 6% who had not were more likely to have worse mental health. Even women with children who wanted more reported poorer mental health than those with no children who had come to accept their infertility, according to the study.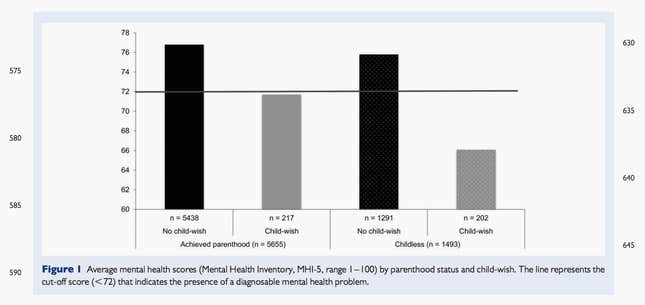 What sustains a woman's longing for a child remains unclear. Researchers suspect having goals besides parenthood helps women move on; they found women who took longer to come to terms with infertility were:
Younger
Less educated
More likely to be in the pre-menopause stage
More likely to be infertile due to female rather than male or unknown factors
Based on their findings, researchers advocated for more counseling for women throughout fertility treatment and after treatment failed to help women come to terms with their condition early.