Kids today with their selfies and their Snapchats and their love of literature.
Millennials, like each generation that was young before them, tend to attract all kinds of ire from their elders for being superficial, self-obsessed, anti-intellectuals. But a study out today from the Pew Research Center offers some vindication for the younger set. Millennials are reading more books than the over-30 crowd, Pew found in a survey of more than 6,000 Americans.
Some 88% of Americans younger than 30 said they read a book in the past year compared with 79% of those older than 30. At the same time, American readers' relationship with public libraries is changing—with younger readers less likely to see public libraries as essential in their communities.
Overall, Americans are buying more books than they borrow, the study found. Among those who read at least one book in the past year, more than half said they tend to purchase books rather than borrow them. Fewer Americans are visiting libraries than in recent years, but more Americans are using library websites.
This is significant given what people say they value most about libraries—it's the place, not the books available there, that young people cite as most important.
How Important are These Public Library Services to You and Your Family?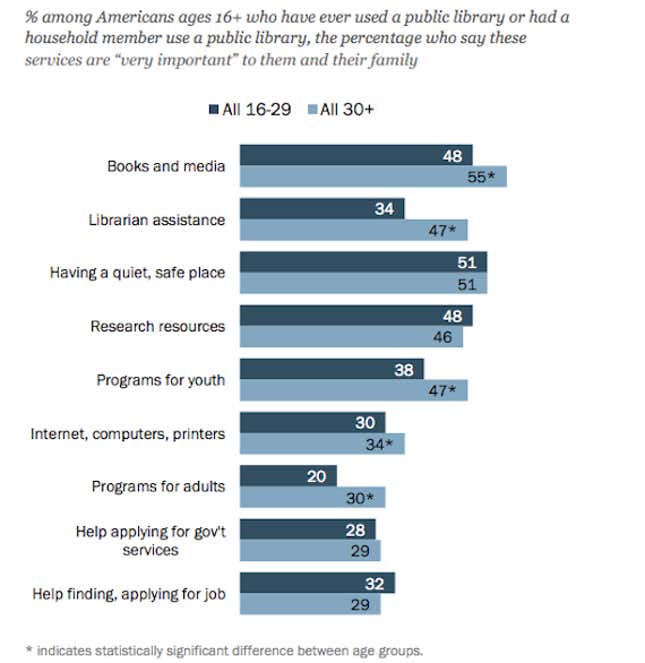 Not surprisingly, high school and college-aged people reported reading more than survey respondents in their late twenties. From the report: "Deeper connections with public libraries are also often associated with key life moments such as having a child, seeking a job, being a student, and going through a situation in which research and data can help inform a decision."
Beyond age, Pew found that women, Hispanics, African Americans, and adults with lower incomes and lower levels of educational attainment were all more likely than other groups to call library services "very important."
Another key finding from the study: People under 30—those who use Internet-connected technologies the most—were also more likely than older adults to say that there is "a lot of useful, important information that is not available on the internet."
In other words, the demographic that gets criticized for relying on the Internet most was also the most likely to acknowledge its limitations.
This post originally appeared at The Atlantic. More from our sister site: