Update, Feb. 5, 2015: RadioShack has filed for Chapter 11 bankruptcy protection and reportedly reached an agreement to sell as many as 2,400 of its 4,000 locations to the hedge fund Standard General. According to the Wall Street Journal, as many as 1,750 of those stores will be operated in partnership with Sprint.
These are dark days for Radioshack, a particularly American retailer known—at various points—for its bizarrely intrusive questions at the cash register, ludicrously long printed receipts, more-than-adequate inventory of radio-controlled cars, and its once-ubiquitous line of Tandy brand personal computers. The stock price has collapsed below $1 in recent days (although it climbed back above that mark in today's session) and bond prices also have plummeted amid open talk from analysts that a bankruptcy filing is imminent. (We asked RadioShack if it would like to comment. It didn't.)
As  Hemingway wrote in the Sun Also Rises, there's a very simple answer to the question, "How did you go bankrupt?"
"Two ways. Gradually, then suddenly."
We seem to be just about finished with the gradual part.
An early sales surge flattens out
RadioShack had a remarkable run of sales growth in the early 1980s. But sales essentially have been flat for two decades. Today, nominal sales are back to 1987 levels.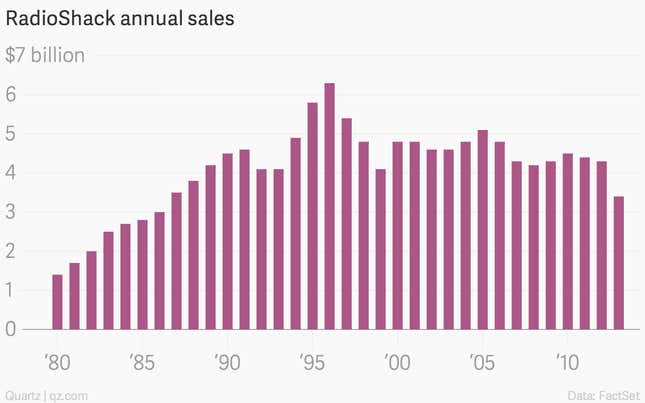 Gross margins narrow
RadioShack was never able to recapture the thick profit margins it enjoyed during its glory days in the 1980s. Weak sales growth plus lackluster margins is a recipe for profit problems.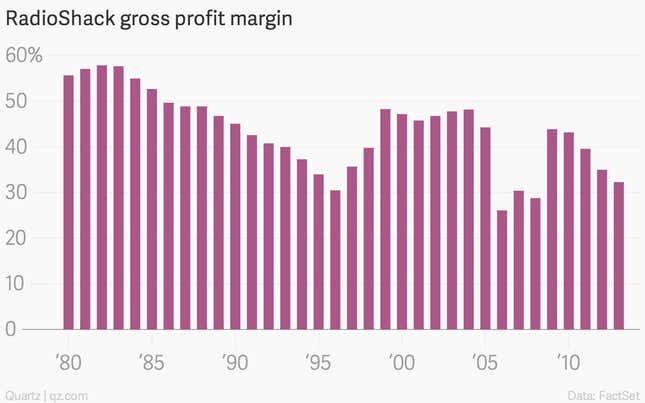 Profits weaken
And that's exactly what came to pass in recent years. Eventually, declining profits gave way to outright losses.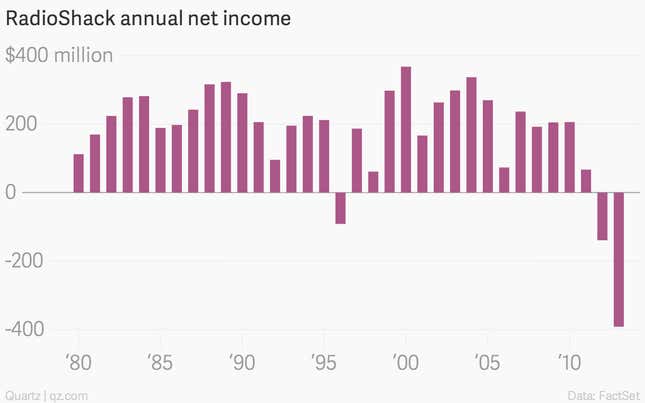 Stores languish
By the early 1980s, Radio Shack—then a division of leather goods manufacturer and retailer Tandy Corp.—had roughly 8,500 stores across the country. Recently the company has moved to chop stores, in light of financial realities. But it might be too late.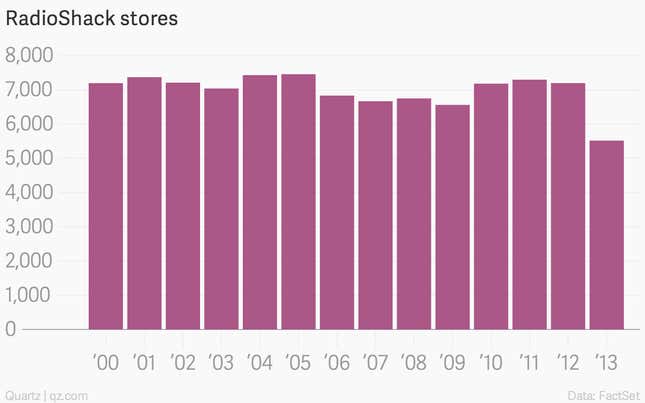 Debt accumulates
For a while the company was able to offset the pressure with borrowings. But now it finds itself laden with debt.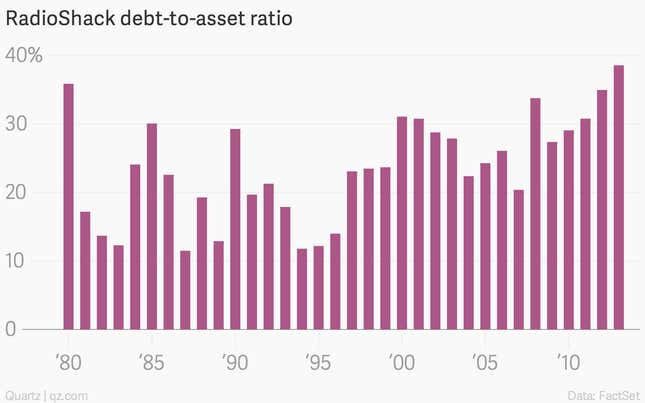 Cash flow evaporates
And paying off that debt has gotten trickier as RadioShack's free cash flow has dried up.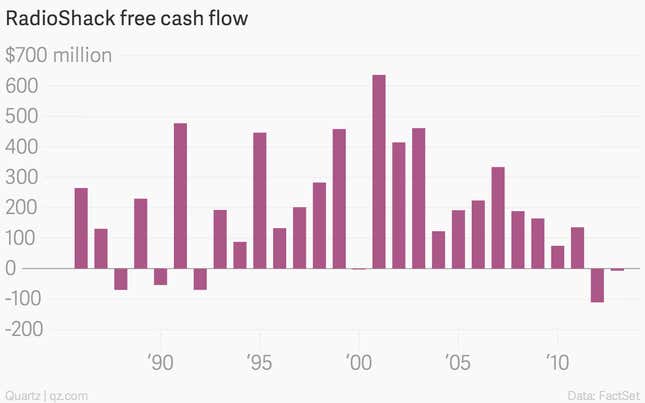 Cash gets used up
Given the amount of debt RadioShack has and the terrible operating performance of the franchise, the company has burned through nearly all of its cash in recent months. (It's in negotiations to borrow more.) As of Aug. 2, the company only had around $31 million in cash on hand.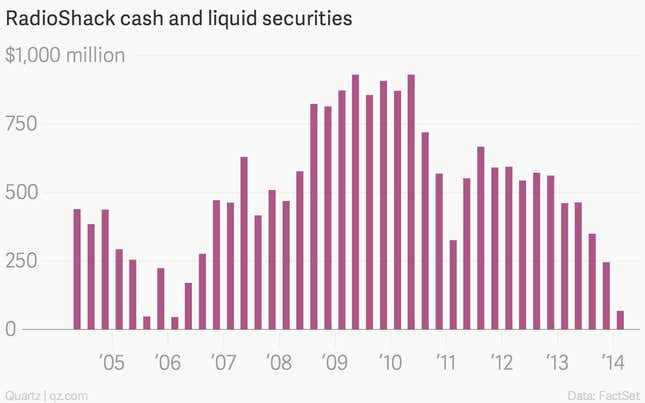 Bond prices fall
The bond market knows how to read the financial statements, and prices of RadioShack debt have been falling accordingly.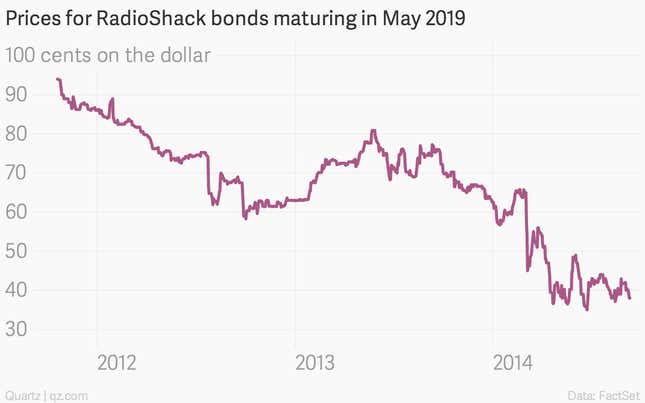 Shares flatline
Stock investors—who will be wiped out in any actual bankruptcy filing—have already dumped the shares.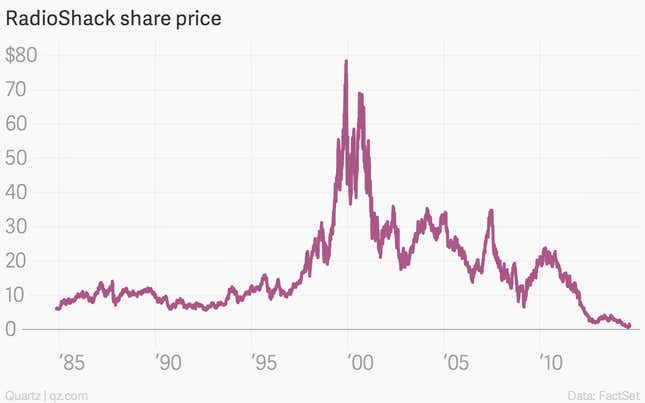 Chapter 11 talk ensues
It seems like we're getting close to the end here. The company just filed a regulatory document that said, "If acceptable terms of a sale or partnership or out-of court restructuring cannot be accomplished, we may not have enough cash and working capital to fund our operations beyond the very near term, which raises substantial doubt about our ability to continue as a going concern."
And the next stop after that, as the filing noted, is bankruptcy.