Is the automobile the "the most underutilized machine in the world"?
Morgan Stanley thinks it might be. The chart below comes from research published by the investment bank this week. The note is nominally about the global automotive/car rental/fleet management industries, but it really comes across as an ode to the app-enabled car service, Uber Technologies.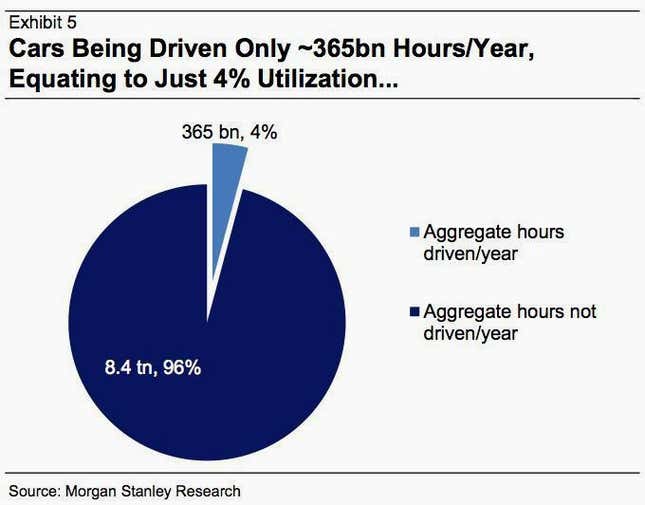 The bank's calculations for the chart are as follows:
Take the 1 billion cars in the world, driven 1 hour per day x 365 days = 365 billion hours of driving per year. That's a big number… but it masks the 8.4 trillion hours that cars are NOT DRIVEN per year!
A lot of people have been arguing on Twitter that this is a meaningless statistic. A toothbrush, for example, is only utilized for a couple of minutes each day. But here's the thing: A toothbrush does not require a large chunk of a person's income and/or leverage to purchase, nor does it require ongoing maintenance and fuel costs.
"The amount of waste trapped in the system is hard to put into words," Morgan Stanley writes, before proceeding to attempt just that:
We all know cars are depreciating assets and expensive to maintain, but seen this way, it appears consumers are destroying massive amounts of value by owning their vehicles! Applied to a $20 trillion global vehicle fleet, our calculation suggests trillions of dollars of wasted value. Then consider the ancillary costs of vehicle ownership, such as insuring, parking and maintaining a car that is actually used rather infrequently.
The investment bank is not explicitly bullish on Uber. It provides no projections for the company's finances, for example. But there is plenty of blue-sky thinking about its potential to transform the fleet management and car rental industries.  For example, Morgan Stanley argues Uber could eventually become the owner of a fleet of autonomous vehicles that make renting cars so cheap that ownership becomes completely redundant:
Perhaps Uber founder Travis Kalanick's motto should be: We will make taxis so cheap that only rich people will own cars.
It will take another 20 years until we reach "autopia," when all cars on the roads are fully autonomous, the report claims.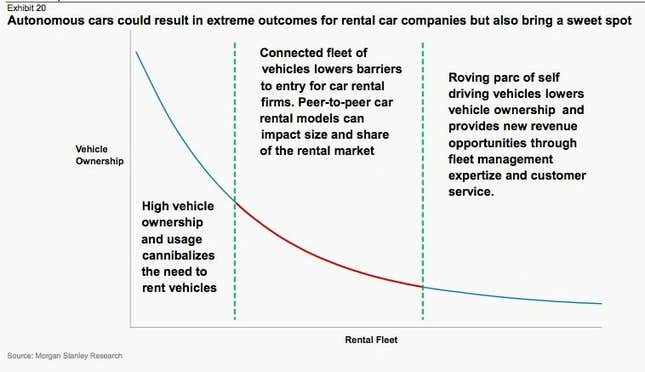 Which is fun to think about, and entirely plausible—but also completely impossible to prove.
There is at least one more reason that this report is interesting.  Sell-side research departments of investment banks don't typically write up detailed research on unlisted companies. But now that their clients (such as mutual funds) are increasingly investing in startups before they go public, there is a reason for them to do so, at least informally.
Uber hasn't said anything about going public (it just completed a mammoth funding round so there's no rush), but if and when that happens, the company is certain to be one of the most coveted IPOs on Wall Street.