After a years-long boom, domestic investment is sucking wind in China. For our money, this statistic is a perfect snapshot of the situation. Cement production growth rates in the People's Republic have slipped sharply in recent months. In August, cement production was up a scant 3% compared with the prior year. (You'll notice that the data is pocked by lacunae, due to the lunar holidays early in the year.)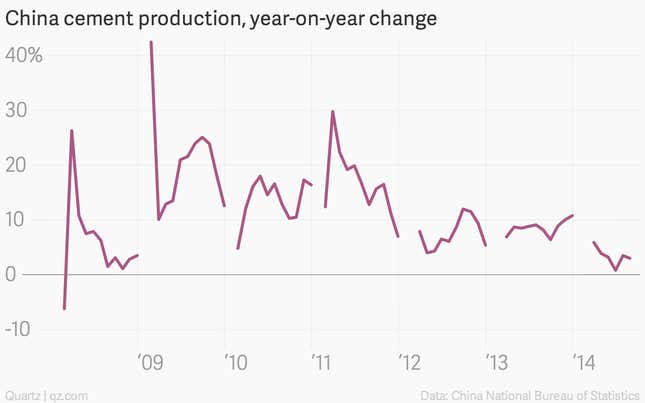 At any rate, the current growth rate of cement production is almost as low as it was when the global financial crisis hit in late 2008. And in this slowdown, it's not just cement. Overall Chinese industrial production grew by 6.9% year-on-year in August, the weakest growth seen since December 2008.
At that time, the Chinese government came sprung into action, launching an investment program that caused a surge of cement to pour forth from Chinese factories in 2009. Cement is worth paying special attention to, given how closely linked it is to the intensely overbuild Chinese housing market. Given that the government is letting the flow of cement slow to a trickle, it suggests any government effort to reinvigorate growth (if there is one at all) will likely sidestep a sector that already seems hopelessly oversupplied.