Alibaba hasn't even gone public yet and it's already creating headaches for Amazon.
Amazon's stock price has been having an uncharacteristically rough year, in part due to a bout of investor fatigue with its post-profit business model. But it's down almost 3% today, and this time, Alibaba's IPO is probably to blame.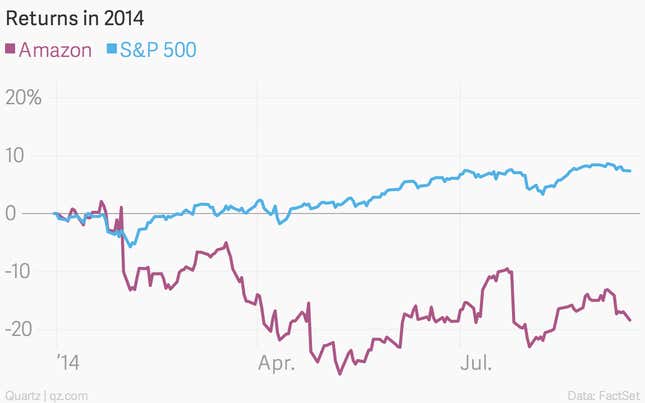 Not because investors are worried that a cashed-up Alibaba is going to launch an incursion onto Amazon's turf in the US and Europe, and wrest customers away from the e-commerce giant, although eventually that could happen too (paywall). Rather, there are simple supply and demand dynamics at work, not Amazon's products and services but for stocks.
Alibaba, the Chinese internet colossus, is expected to pull off the biggest IPO in history this week. It will sell more than $21 billion of stock, according to Renaissance Capital. The thing is, as MarketWatch points out, big investors need to free up capital to participate in the IPO. To do this, they are likely to sell shares of US e-commerce companies (to avoid over-exposure to the sector).  For better or worse, the closest comparable company to Alibaba in the US is Amazon. Ebay's share price also is under pressure of late.
On an operational level, should Amazon be worried about Alibaba? Maybe over the long term. Alibaba doesn't really have a presence in the US at the moment, although it could use the large and growing Chinese diaspora to expand there (and in Europe) by stealth. Meanwhile, Amazon's web services arm has been seeking a toehold in China.
But for the most part, Alibaba's future growth is going to be closely tied to the Chinese market,  just as Amazon's future growth is going to depend heavily on the US. Amazon and Alibaba aren't direct competitors in e-commerce yet, and they might never be, but this week is going to show that they can be competitors for investors' attention, and capital.