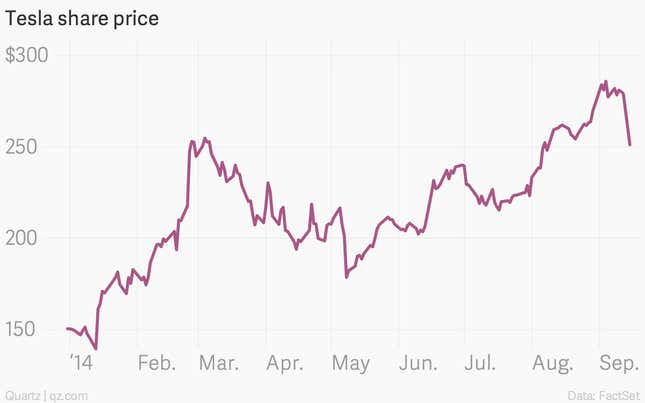 Investors may have ignored Elon Musk's big warning about the electric carmaker he founded, Tesla Motors, but they didn't ignore a message from one of the company's more prominent supporters.
Tesla is having is second worst day of the year on the stock market today. At the time of writing, shares are down about 10% (and if you care about that stuff, holding just above their 50-day moving average).
This comes after Morgan Stanley's investment research department expressed caution about their rapid rise in recent months. Morgan Stanley was one of the first investment banks to jump on the Tesla bandwagon. In recent months it has detailed how it thinks Tesla is more than just an automaker, estimating the company could be making billions from energy storage by the end of the decade.
Today it expressed some qualms, telling its clients "not expect the stock to appreciate so consistently and one-directionally from here." Everything from infrastructure challenges in China to the failure of other automakers to embrace electric cars and the rise of autonomous vehicles could threaten its rosy outlook, it said.
For the record, the investment bank remains a firm believer in the long-term Tesla story, reaffirming its belief that it is "the world's most important car company." It also still thinks shares can go much higher than they currently are (it officially thinks they could be worth $320, about 25% above today's levels) "but perhaps not so quickly and not for some of the reasons we believe are driving the market," analyst Adam Jonas writes.
Of course, Tesla shares are still up 70% in 2014 and more than 1,200% since the company's 2010 IPO. It's way to early to call that run over, especially for a stock as volatile as Tesla.