China's football field-sized deepwater drilling rig, CNOOC 981, made its first gas discovery this week, 1,500 meters (4,921 feet) below the South China Sea.
The discovery was 150 kilometers south of Hainan Island, an area that is firmly in Chinese domain. Earlier this year, the rig was parked in disputed territory, which sparked deadly riots in Vietnam. China has been moving aggressively to claim territory there that is also claimed by the Philippines, Vietnam and other nations, including its recent construction of an airbase on reef that it built into an island.
That CNOOC, China's state oil company, has struck a gas field that officials say could be a respectable 30 billion cubic meters or over 1 trillion cubic feet, has "opened the door…to the huge exploration potential of deepwater areas" in the South China Sea, Xinhua reported, citing CNOOC chairman Wang Yilin.
The South China Sea is one of the world's top sites of untapped natural gas resources, with an estimated 190 trillion cubic feet of gas, according to the US Energy Information Administration: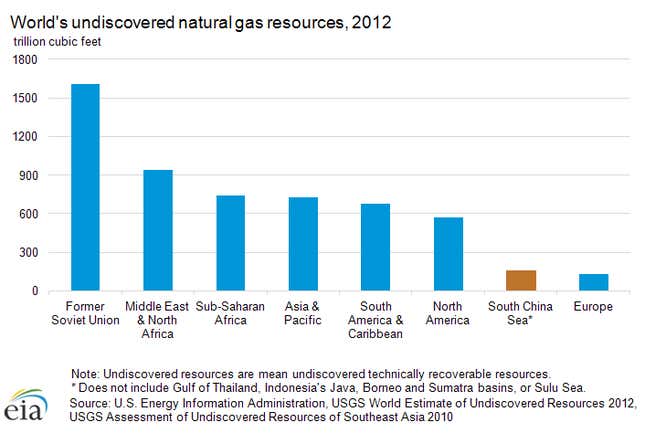 The majority of the South China's Sea's existing reported reserves are in shallow water basins, according to the US energy agency, only because no knows any better, thanks to "limited exploration of deepwater areas." The highly disputed Spratly Island area, which is claimed by the Philippines, Vietnam and China could also have "significant deposits" of undiscovered hydrocarbons, the US estimates.