Brazil's candidates for the presidency will debate tonight, ahead of the country's first round of voting on Oct. 5. Eight candidates will meet, but all eyes will be on the two frontrunners, incumbent Dilma Rousseff and her unexpected challenger, Marina Silva. Rousseff and Silva are currently in a dead heat, with the latest polls sending the two candidates for a runoff vote at the end of October (links in Portuguese).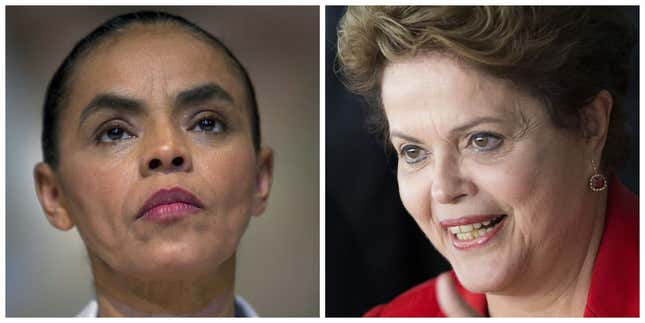 Unlike the first two debates, where television networks hosted and journalists asked the questions, the National Conference of Bishops of Brazil (CNBB) has organized tonight's event in Aparecida, Sao Paulo. Catholic clergymen will ask the first round of questions, followed by members of Brazil's Catholic press. It's the second time CNBB is hosting such an event, after a similar debate during 2010's election.
According to Folha de Sao Paulo, topics will include social justice, distribution of wealth, and quality of life from beginning to end. That will likely include issues such as same-sex marriage and abortion—the latter currently legal in Brazil only in cases of rape or life-threatening circumstances. Brazil recognizes same-sex unions, with rights more limited than those of married couples.
"Voters have a right to know candidates' positions and commitments with regards to these questions of principle," Dom Odilo Scherer, the Cardinal Archbishop of Sao Paulo, told the newspaper.
Silva, after an astounding rise to the candidacy, hit a bump when she backpedaled after releasing a document that supported gay marriage. She called it a mistake; a new version states she will "defend rights relating to civil unions between same-sex couples."
Although Catholic liberation theology informed Silva's early activism, she converted to Evangelical Christianity in the 1990s. Rousseff was baptized in the Catholic church, but has said she no longer attends. (She did, however, appear at the recent opening of a 10,000 seat evangelical mega-church in Sao Paulo.)
Brazil remains a largely Catholic country, but with the evangelical population is growing, Catholicism's dominance has been in decline.