Thousands of students and hundreds of academics in Hong Kong are boycotting university classes this week to protest Beijing's restrictive proposal for how the semi-autonomous territory should choose its leaders. Organizers said over 13,000 students from 25 universities staged a sit-in at the Chinese University of Hong Kong. About 400 academics have also pledged to boycott this week.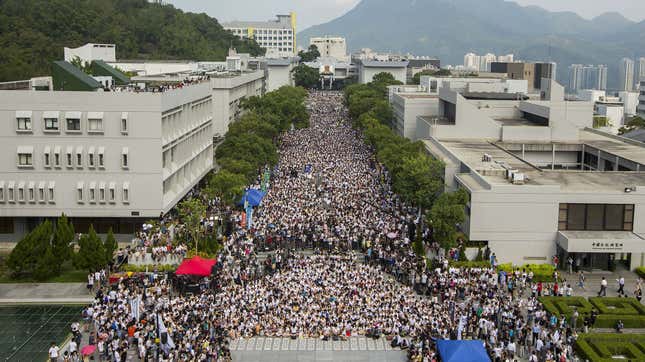 The demonstration is significant, and not just because it comes ahead of another mass protest on Oct. 1 by the pro-democracy group Occupy Hong Kong, which has pledged to bring the city's financial center to a standstill. It may signal the awakening and coming together of the local student movement, which has been divided, disillusioned or inactive for much of the past three decades.
Hong Kong is home to some 80,000 students, about 1% of the overall population. Though young people participate in annual demonstrations on June 4, to commemorate the Tiananmen crackdown, and July 1st, when the city was returned to China, most youngsters have become more interested in their studies and potential career opportunities than politics.
According to researchers (registration required), that's because previous student movements have been disappointing. In the 1960s, leftist students agitated for reunification with the Chinese motherland, a campaign that was cut short by China's violent and ideologically extremist Cultural Revolution. Then in the 1980s, another movement to establish a unified democratic China was torpedoed by Beijing's brutal crackdown of pro-democracy protesters in 1989.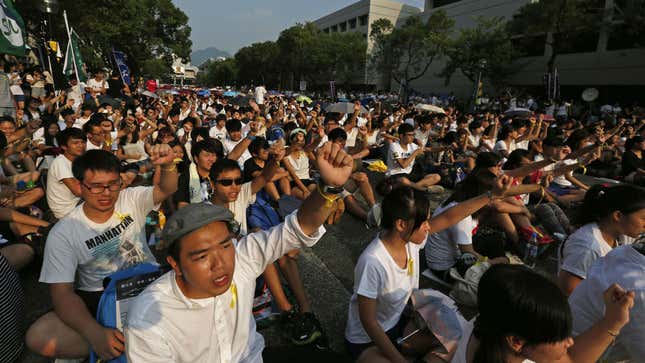 Thus, just as students were pushing ahead reform and democracy movements in South Korea, Indonesia, and  Burma in the 1980s and 1990s, Hong Kong's students were growing disillusioned and pulling back from local politics. "Unlike elsewhere in Southeast and Northeast Asia, Hong Kong's students have not played a crucial role in the political development of the state," Stephen Ortmann wrote in 2012 in the book Student Activism in Asia.
That may be starting to change. Unlike past generations, Hong Kong's young residents increasingly identify themselves as "Hong Kongers" over just "Chinese." More are seeing their problems—fewer job prospects and sky-high rental and property prices—as directly related to Beijing's influence over the city-state.
And as in the 1980s, Hong Kong students may be taking inspiration from other student protests in Greater China. Students in Taiwan occupied the legislature for three weeks this spring to oppose a trade pact with China.
"We are willing to pay the price for democracy," Alex Chow, secretary general of the Hong Kong Federation of Students, 0ne of the city's student unions, told rallygoers today. This week's boycott, he said, is meant "to wake up society—let them know our city's death knell is ringing."