Russia and OPEC are under challenge from Western-led sanctions and the surge of US oil production, but it's only a pause: both will be back stronger, according to a new report.
Since 2006, Russia has roared back from a post-Soviet plunge in oil production, producing a steady 10 million barrels a day, which in turn supports more than 40% of the state budget. A halt to drilling in the Russian Arctic announced Sept. 19 by ExxonMobil shows how Western sanctions could hurt Moscow's ambitions to maintain at least that level of production for decades to come.
But the US Energy Information Administration says that as long as president Vladimir Putin and the West settle their differences reasonably soon—in the next couple of years—Russia will not only meet current oil production, but raise its game to 11 million barrels a day by 2040. This slide shows Russian production absent sanctions.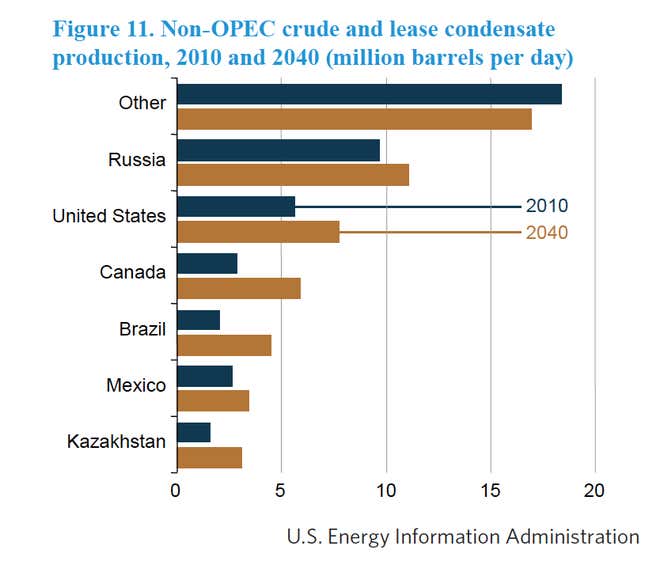 Adam Sieminski, who heads the EIA, said in a speech at Columbia University that among the contributors to the Russian volumes will be a gusher of so-called "tight oil," which along with shale oil is largely responsible for the US production surge.
This slide shows how Russia will go from zero to more than 2 million barrels a day of tight-oil production in 2040. (In the US column, on the left, the slide also shows how EIA projections have tended to understate tight-oil production—new forecasts for next year already surpass what the agency had foreseen for 2025. If this trend persists, the Russia numbers could be higher as well.)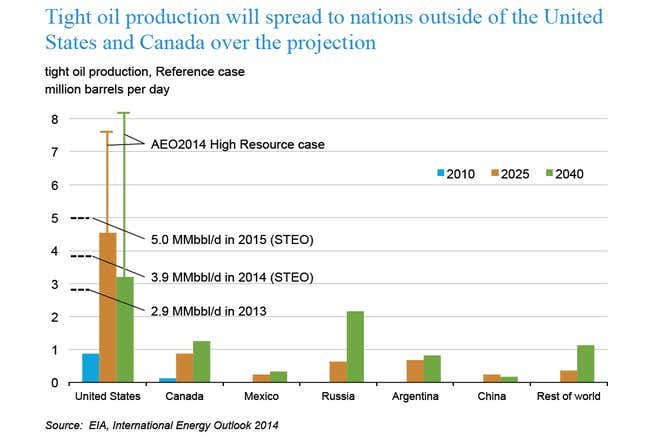 Over the last couple of weeks, global oil prices have plunged, with Brent falling below $100 a barrel, because of an oil surplus and soft demand from China and elsewhere. Just today, futures prices fell as low as $96.38 per barrel. One result has been to put a scare into OPEC, many of whose members require oil at well over $100 a barrel to support government spending.
The surpluses could persist for as much as a decade, but then in about 2025, US shale oil production looks likely to flatten out, at which point the market will require a surge of OPEC oil to compensate, Sieminski said. You can see his point around the year 2025 in this slide.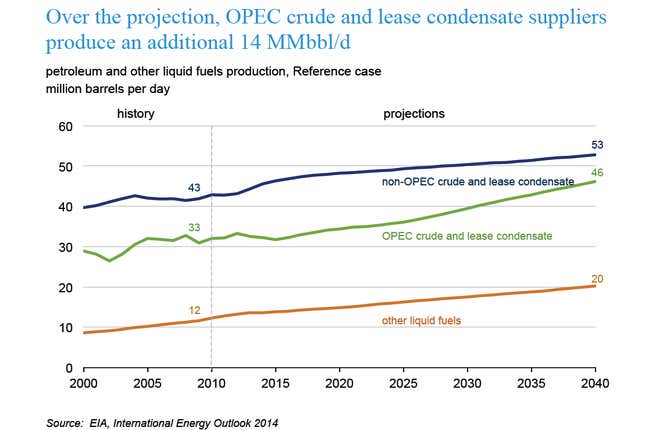 In other words, OPEC, too, will have a revival of its relative influence. Sieminski said the challenge for the world will be to persuade OPEC to maintain its production capacity in working order so that "when the world does call for more supply, it will be able to respond."